Escarole Soup Recipe – Laura Vitale
Escarole Soup Recipe – Laura Vitale
*
I recall having Escarole soup every Thanksgiving before anything else and was it delicious. I can taste it right through this monitor. Dad would shop for fresh greens and mom would chop and get them ready for the soup. Really Delicious!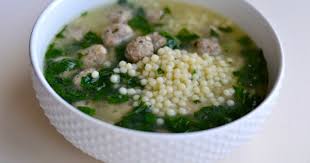 Actually no one called it Escarole they referred to it in the Italian dialect of "shcadole". Great memories and Wonderful Soup. It is perfect for these winter days in the northern hemisphere. Hope you enjoy this recipe.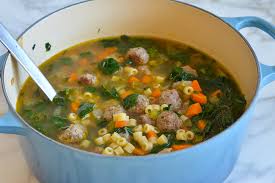 Escarole Soup from back in the day is often called Wedding soup or Italian wedding soup these days. Escarole soup is an Italian soup consisting of green vegetables and meat. It is popular in the United States, where it is a staple in many Italian restaurants.
*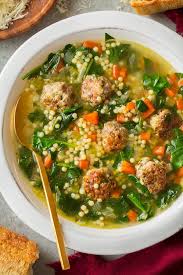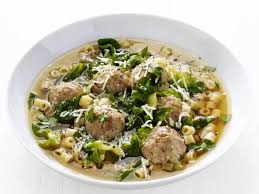 *
The term "wedding soup" comes from the Italian language phrase "minestra maritata" ("married soup"), which is a reference to the flavor produced by the combination/"marriage" of greens and the meat. The minestra maritata recipe is also prepared by the families of Lazio and Campania. Some form of minestra maritata was long popular in Toledo, Spain, before pasta became an affordable commodity to most Spaniards. The modern wedding soup is quite a bit lighter than the old Spanish form, which contained more meats than just the meatballs of modern Italian-American versions.
*
Ingredients
1 lb of Escarole, washed and chopped into bite size pieces
2 Cloves of Garlic, minced
2 Tbsp of Olive Oil
1 15oz can of Cannellini Beans, drained and rinsed well
6 cups of Beef or Chicken Stock or you can use a combination of both
For the Meatballs
1/2 lb of Ground Pork, Beef and Veal Mix
1 Egg
1/4 cup of Freshly Grated Parmiggiano
1/4 cup of Fresh Bread Crumbs
2 Tbsp of Milk
2 Tbsp of Freshly Chopped ParsleySalt and Pepper, to taste
Preparation
1) In a bowl, mix together all the ingredients for the meatballs and set aside for a few minutes.
2) In a large soup pot preheated over medium heat, add the oil and garlic and sautee until fragrant.
3) Add the stock and beans and bring to a boil, meanwhile, roll little meatballs out of the mixture we prepared and drop them in the boiling stock mixture.
4) Add the chopped escarole, season with salt and pepper and cook the soup for about 15 minutes. Serve right away!
Then Join Dominic and Frank on Facebook at Everybody Loves Italian where we forever celebrate Life, Love and the Italian Experience. 
*
Visit us on the web at www.dev.everybodylovesitalian.com