Farro Risotto with Sausage, Fennel and Squash
Farro Risotto with Sausage, Fennel and Squash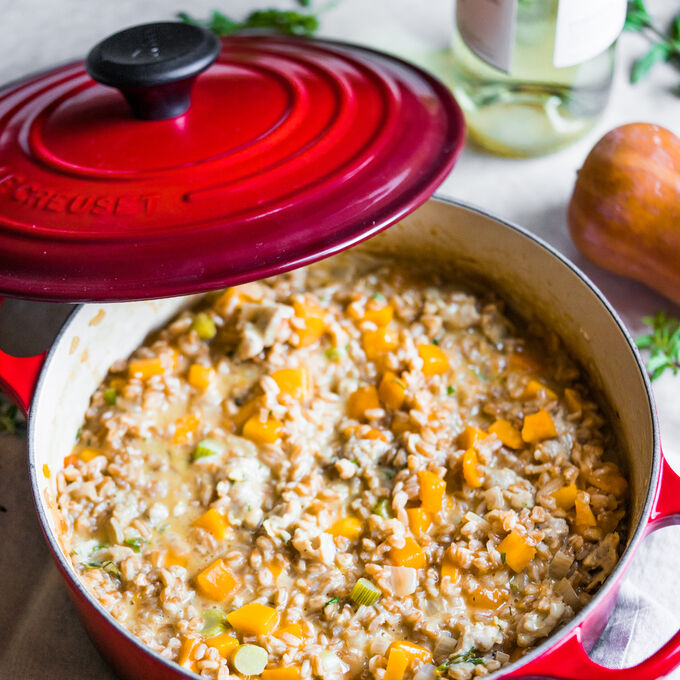 Serves
Makes 4 servings
Ingredients
5 cups low-sodium vegetable or chicken stock
1 cup farro (imported Italian semi-pearled farro recommended)
2 cups boiling water
1 small (1 pound) butternut squash, peeled, seeded, and diced into ¼-inch pieces
1 medium fennel bulb, trimmed, cored and diced into ¼-inch pieces
½ pound ground sweet or hot Italian sausage, no casings
½ teaspoon ground fennel seeds
Kosher salt and freshly ground black pepper, to taste
1 tablespoon extra-virgin olive oil, plus more as needed
2 large shallots, minced
2 medium garlic cloves, finely minced
½ cup dry white wine
2 tablespoons unsalted butter
1 teaspoon fresh oregano, minced
1 cup (2 ounces) grated Pecorino Romano, plus more for garnish
Juice of 1 medium lemon
Procedure
Farro has a complex nutty taste and looks similar to a grain of brown rice. Farro grains contain starch like Arborio rice so it behaves similarly by releasing a creamy liquid when cooked, making it a great substitute in risotto. (Be aware that whole grain farro takes longer to cook than semi-pearled or pearled farro. Soak whole grain farro at least 4 hours, or preferably overnight before cooking).
Preheat oven to 425°F.
Pour chicken broth into a large saucepan and bring to a boil over high heat. Reduce heat to low and cover.
In a large heatproof bowl, pour boiling water over farro and cover. Allow to soak for 20 minutes before draining off liquid.
To roast squash, fennel and sausage: place the squash, fennel, sausage, and ground fennel seeds in a large bowl and toss with enough oil to coat. Season with salt and pepper. Transfer mixture to a baking sheet and place in the oven; roast until sausage is browned and squash is tender, 10 to 15 minutes. Set aside.
For the risotto: in large saucepan or Dutch oven over medium-high heat, add 1 tablespoon oil. When oil is simmering, add shallots and garlic; cook until translucent, about 2 minutes. Add drained farro, stirring to coat the grains in the oil. Add wine and cook until pan is almost dry, about 3 more minutes.
Using a ladle, add about 1 cup of hot broth to the pan, stirring constantly with a wooden spoon. Reduce heat to medium and cook until broth is almost fully absorbed. Add broth as needed, ½ cup at a time, stirring constantly and adding more stock only after the previous addition has been absorbed, until the farro is tender, about 20 to 30 minutes. (Adjust the heat so the farro simmers rapidly throughout the cooking).
When farro is tender, stir in squash and sausage mixture, butter, oregano, and grated cheese. Taste and adjust seasoning with salt, pepper, and a squeeze of lemon juice.
To serve: divide the risotto among 4 warmed pasta bowls. Top with additional grated cheese if desired; serve immediately.
Join Joanne and Frank on Facebook at
and