Farro Salad with Olives and Pecorino
Farro Salad with Olives and Pecorino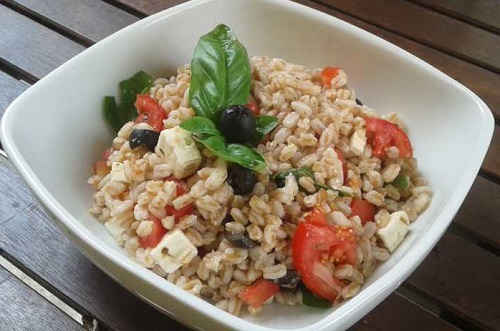 A genuine spelt recipe with high quality ingredients: organic farro, Italian pecorino and olives. Descover how to cook spelt what are the benefits for your health.
If you have a healthy diet and like to eat genuine food, you can not miss Farro. It is one of the oldest cereals, that has been replaced by wheat in the last centuries. But today we can speak of a new golden age for this cereal. Farro is low in calories, high in fiber, minerals and vitamins. Therefore, the high farro health benefits make it a perfect food for those who follow a healthy and balanced diet.
But, how to cook farro? Preparing farro recipes is very simple, you can use it like rice in your salad.
Try our farro salad recipe with tomatoes, black olives and pecorino, a healthy and savory recipe perfect for your barbecue party, your pic nic, but also for your lunch break.
Instructions
Soak the farro for 12 hours. Then rinse under running water, drain and cook in salted boiling water for about 45 minutes. Add a clove of garlic to the water to add flavor.
When ready, drain and season with 4 tablespoons of Extra Virgin Olive Oil, a pinch of salt, oregano and a pinch of red pepper. Stir and let it cool.
Meanwhile, wash the tomatoes and cut them in half.
Peel onions and cut them into thin slices.
Cut the Pecorino cheese into cubes.
Wash basil leaves and chop them with the hands.
When the farro is cold, add the other ingredients and mix well.
Sprinkle with the basil leaves and serve the farro salad.
https://www.sensibus.com/deli/recipes/farro-salad-olives-and-pecorino