Fettuccine alla papalina (Fettuccine for the Pope)
Fettuccine alla papalina (Fettuccine for the Pope)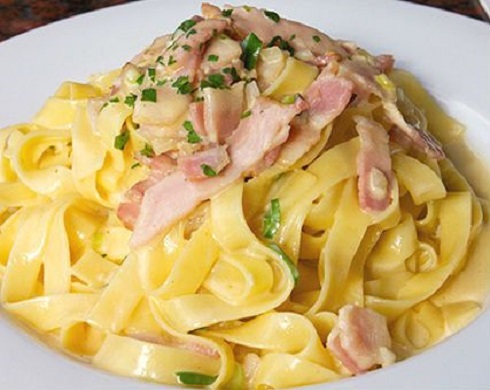 Fettuccine alla papalina, or "Fettuccine for the Pope", is an upscale reinterpretation of the earthy spaghetti alla carbonara. The story goes that the dish was prepared for a certain Cardinal Pacelli, soon to become Pope Pius XII, who had asked the owner of a restaurant in the Borgo (the area of Rome that lies between the Vatican and the Tiber River) to make him a more delicate version of the classic Roman dish
Ingredients
for 4 people:
Fettuccine 400 gr
prosciutto or cooked ham 100 gr
butter 100 gr
½ onion
cream 50 gr
grated cheese 150g
dried mushrooms 30 gr
3 eggs
salt, pepper.
PREPARATION
Cut the ham into strips and brown it in a pan with the butter and the chopped onion then add mushrooms and the beaten eggs, 100 grams of grated cheese and season with salt and pepper. Cook, stirring often, until the sauce will appear rather compact. Meanwhile boil the noodles in plenty of boiling salted water, then drain them and season When cooked with the sauce. Complete mixing the remaining grated cheese and cream.
Serve immediately.