Frank Granieri – Roast Pork Sandwich – Philly's #1 Sandwich
Frank Granieri
Roast Pork Sandwich
Frank's Thought on Growin' Up Italian
*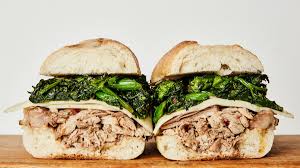 Roast Pork whether as a sandwich from South Philly or a Porchetta such as they make in southern Italy. Roast Pork is to die for. This first video is Frank and Dominic at the South Philadelphia Italian Festival. The second video is of Chef John of Food Wishes sharing his recipe for Porchetta.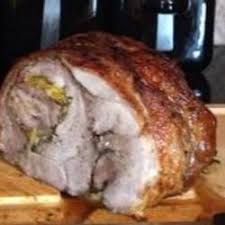 Roast Pork Sandwich
South Philly is known for it's Cheese steaks but Everyone that lives there knows the truth. Its the roast pork sandwich that wins the day. Especially if adorned with provolone cheese and broccoli rabe…. OMG….. there is nothing quite like it.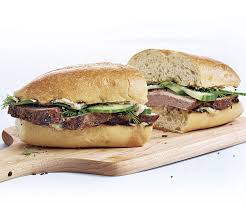 Roast Pork Sandwich
Thinking back to my childhood, when I was a kid growing up just outside of Philadelphia I recall the roast pork that my grandmother used to make. Just looking at it would make you drool with anticipation. She would  usually toast the roll just enough to give it some crunch and just a little to be able to absorb the juice from the pork. Then the cheese, usually provolone melted just right. And to finish it off the broccoli rabe that would give it that extra little something that after you tasted it just once…. you could not live without.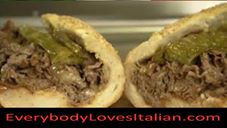 Roast Pork Sandwich
Take a minute and view this first video of Frank eating a Roast Pork sandwich at the festival. If you are not hungry going in you will be coming out. So delicious!  Frank cracks himself up having such a good time that he and Dom on the camera just laughed and laughed as he enjoyed the sandwich.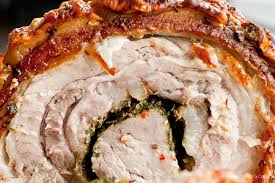 Then….. go to the next video just following this one for Chef John and his Roast Porchetta and Arugula sandwich ….
Another one to make you crazy. 
Join Dominic and Frank on Facebook at Everybody Loves Italian where we forever celebrate
Life, Love and the Italian Experience. 
Visit us on our website at
www.dev.everybodylovesitalian.com