Fregola Sarda with saffron mussels and clams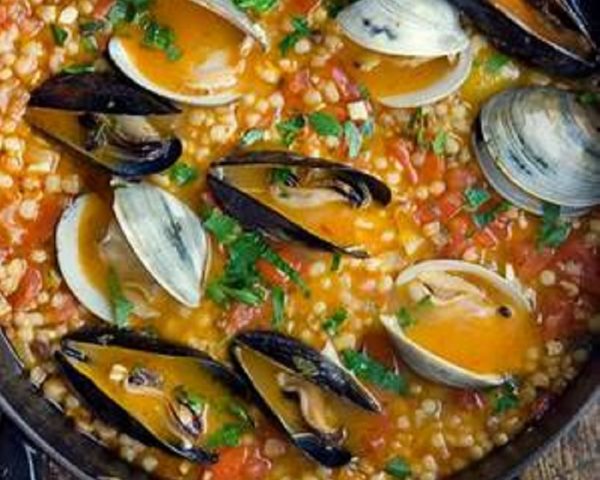 Fregola sarda (rolled balls of semolina), a specialty of Sardinia, is cooked with saffron (grown on the island) with a  mix of seafood.
Ingredients
1 cup fregola (see Tips)

80 ml (⅓ cup) extra virgin olive oil

3 garlic cloves, thinly sliced

1 leek, white part only, cut into 5 mm dice

½ small bulb fennel, cut into 5 mm dice

125 ml (½ cup) dry vermouth

250 g (1 punnet) cherry tomatoes, halved

500 ml (2 cups) chicken stock

½ tsp chilli flakes

20 strands saffron

1 kg 30 to 40 small black mussels, scrubbed and beards removed

1 kg 30 clams, purged

1 lemon, rind finely grated and juiced

½ bunch flat-leaf parsley, finely chopped
Cook's notes
Oven temperatures are for conventional; if using fan-forced (convection), reduce the temperature by 20˚C. | We use Australian tablespoons and cups: 1 teaspoon equals 5 ml; 1 tablespoon equals 20 ml; 1 cup equals 250 ml. | All herbs are fresh (unless specified) and cups are lightly packed. | All vegetables are medium size and peeled, unless specified. | All eggs are 55-60 g, unless specified.
Instructions
Cook the fregola. Bring a medium saucepan of salted water to the boil. Add the fregola and cook until al dente (about 12 minutes). Drain well and set aside.
Heat the oil and garlic in a large saucepan over medium-low heat until the garlic begins to soften but is not colored. Add the leek and fennel and cook until softened (about 7 minutes).
Add the vermouth, increase the heat to high and cook until it has evaporated, scraping up any bits on the base of the pan (about 4 minutes).
Add the tomato, reduce the heat to medium and cook, stirring occasionally so the base doesn't catch, until they've collapsed and have released their juices (about 5 minutes).
Add the stock, chilli flakes and saffron and bring to a gentle boil. Check the seasoning. Add some freshly ground pepper and a little salt, if desired, keeping in mind that the briny juices from the mussels and clams will make the dish salty too.
Add the mussels then the clams on top (as they will cook quicker), cover with a lid and cook until they have opened (about 5 minutes).
Remove from the heat, stir through the fregola, lemon juice and rind, and parsley.
Serve immediately on a large shared platter with a drizzle of extra virgin olive oil to finish.
Tips
• Fregola Sarda is rolled semolina pasta from Sardinia,