Fried Mozzarella with Anchovies, Capers, and Garlic Sauce
Fried Mozzarella with Anchovies, Capers, and Garlic Sauce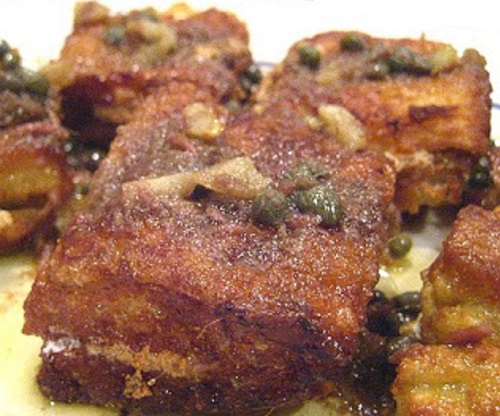 Ingredients:
Two 8-ounce balls fresh water-packed mozzarella cheese, drained, each cut into four 1/3 to 1/2-inch thick rounds
All purpose flour
1 large egg, beaten to blend
3 cups fresh breadcrumbs made from crustless French bread (about 8 ounces)
2 tablespoons (1/4 stick) butter
6 garlic cloves, minced
1 cup (packed) fresh Italian parsley leaves
1/2 cup extra virgin olive oil
1/3 cup drained capers
One 2-ounce can anchovy fillets, drained
1 and 1/2 teaspoons fresh lemon juice
Directions:
Coat cheese in flour, then egg, then breadcrumbs.
Place on baking sheet.
Cover and refrigerate until cold, at least 2 hours.
Meanwhile, melt butter in small skillet over low heat.
Add garlic; saute about 3 minutes.
Transfer mixture to processor.
Add parsley leaves, 1/4 cup olive oil, capers, anchovies, and lemon juice.
Blend until coarse paste forms.
Season with salt and pepper. (Cheese and sauce can be prepared 1 day ahead. Cover separately; chill. Rewarm sauce slightly over low heat before serving.)
Heat 1/4 cup olive oil in large skillet over high heat.
Working in batches, fry cheese until brown, about 2 minutes per side.
Transfer fried cheese to plates.
Spoon warm sauce over cheese. Makes 8 first-course servings.