Frittata Bites with Asparagus
Frittata Bites with Asparagus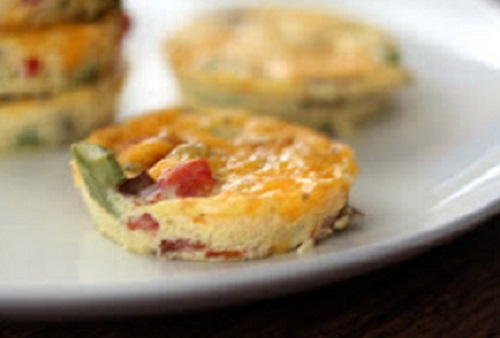 Ingredients
    Cooking spray
    6 large eggs
    2 tablespoons heavy cream
    1/2 teaspoon salt, plus a pinch
    1/4 teaspoon freshly ground black pepper
    1 tablespoon olive oil
    1 tablespoon butter
    12 ounces asparagus, trimmed, cut into 1/4-inch pieces
    1/2 cup mushrooms, diced
    1 tomato, seeded, diced
    Salt
    1/4 cup shredded mozzarella
Directions
Preheat the oven to 375 and spray a muffin tin with cooking spray.
Whisk the eggs, cream, 1/2 teaspoon salt, and pepper in a medium bowl to blend. Set aside.
Heat the oil and butter in a 9 1/2-inch-diameter nonstick ovenproof skillet over medium heat.
Add the asparagus and mushrooms and saute until crisp-tender, about 2 minutes.
Raise the heat to medium-high.
Add the tomato and a pinch of salt and saute 2 minutes longer.
Add the veggie mixture to the egg mixture and pour the mixture into the muffin tin; sprinkle with cheese.
Bake uncovered until the top is set and golden brown on top, about 8-10 minutes.
Let the frittatas stand 2 minutes.
Using a rubber spatula, loosen the frittatas from the tin and slide them onto a plate.