Fusilli with Mussels and Fennel
Fusilli with Mussels and Fennel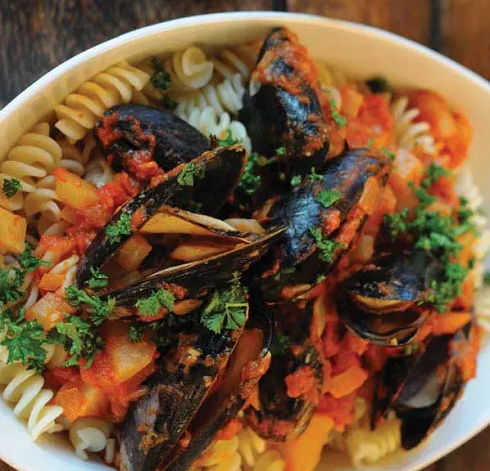 Ingredients:
2 tablespoons extra virgin olive oil
1 onion, chopped
2 cloves garlic, crushed
2 small fennel bulbs, chopped
8 ounce can crushed tomatoes
2 chicken stock cubes, crumbled
2 tablespoons tomato paste
4 cups water
1 and 1/2 lbs mussels
1/4 cup chopped parsley
1/2 cup cream
1/4 cup grated Parmigiano cheese
2 and 1/4 lbs fusilli pasta
Directions:
Heat olive oil in large pan, add onion, cook stirring until golden brown.
Add garlic and fennel, stir over heat 5 minutes.
Add undrained crushed tomatoes, crumbled stock cubes, tomato paste and water, mix well.
Bring to a boil, reduce heat, simmer uncovered 45 minutes.
Add mussels, cook over low heat until mussels open, discard unopened shells.
Add cream, parsley and Parmigiano cheese.
Serve over pasta which has been boiled until 'al dente'. Serves 6-8.