Green Beans with Pesto and Cherry Tomatoes
Green Beans with Pesto and Cherry Tomatoes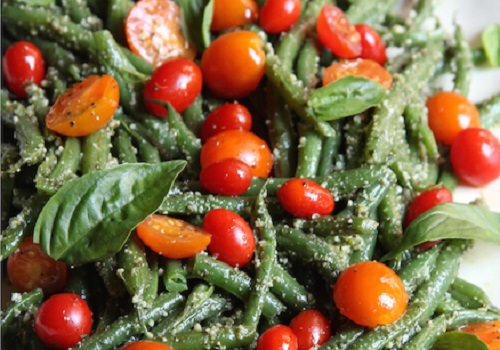 serves  6 – 8
This dish is served at room temperature.
2 Tablespoons kosher or sea salt
1 pound of green beans, trimmed of their stems
1 clove garlic
1 ounce hard cheese, like Parmigiano Reggiano
¾ tsp. fresh ground black pepper, divided
½ cup fresh basil leaves, packed
4 tablespoons extra virgin olive oil, divided
6 ounces small cherry tomatoes, halved
salt to taste
Add the 2 Tablespoons of salt to a large pot of water and bring to a boil.
Prepare an ice bath by placing lots of ice cubes in a very large bowl of water.
Plunge the green beans into the boiling water and cook until just tender and there is no raw taste left.  Depending on how big your beans are and how fresh, etc., this can take anywhere from about 5 – 8 minutes.  Just keep testing a bean until they are done.
 Remove the beans and plunge into the ice water.
Meanwhile, prepare the pesto – in a food processor, pulse the garlic, cheese and ½ teaspoon black pepper together until finely ground.  Add the basil leaves and pulse.  Add 3 tablespoons of the olive oil and pulse.
Prepare the tomatoes by tossing the tomato halves with the remaining tablespoon of olive oil and ¼ teaspoon of the black pepper.  Add a pinch or two of salt and set aside.
Remove the green beans from the ice bath when they have cooled off (this only takes a few minutes) and lay them on paper towels to dry.  A good way to do this is to use Thomas Keller's method – he places a rack over a baking sheet, lined the rack with paper towels and drains the beans on the towels.  The excess water drips through and down onto the pan so that the beans won't be sitting in water.  Pat the beans dry.
Dump the ice water from the large bowl, wipe dry and place the beans in the bowl.  Make sure the pesto is loose enough to dress the beans – if not, add a little more olive oil.  Toss the beans thoroughly with the pesto, using your fingers to lightly toss them.  Taste for salt and add a little, if needed.
Place the beans on a large serving platter. Add the marinated tomatoes on top and garnish with additional fresh basil leaves. Serve at room temperature.