Grilled Caesar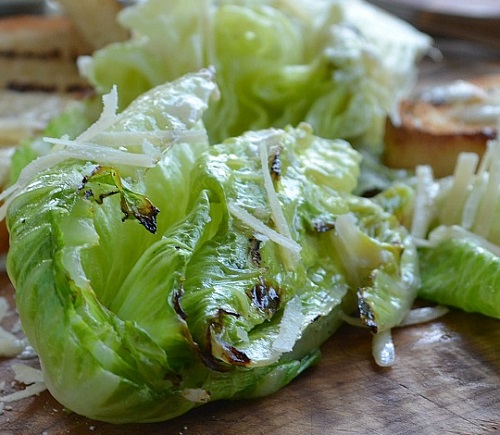 Serves: 6
Ingredients
2 tablespoons lemon juice

2½ tablespoons mayonnaise

3 medium garlic cloves, minced to paste, divided

¼ teaspoon Worcestershire sauce

Salt and ground black pepper

9 tablespoons pure olive oil, divided

½ cup grated Parmesan cheese, ¼ cup finely grated, ¼ cup coarsely grated or shaved

3 baby romaine hearts, halved

12 slices French bread, cut on the diagonal
Instructions
Whisk lemon juice, mayonnaise, 1 garlic clove, Worcestershire, a pinch of salt, and a few grinds of pepper in a small bowl. Slowly whisk in 5 tablespoons oil to make a creamy dressing, stir in finely grated Parmesan and set aside.

Heat gas grill igniting all burners on high for at least 10 minutes or build a hot charcoal fire.

Meanwhile, mix remaining 2 garlic cloves with remaining ¼ cup of oil; lightly brush cut sides of Romaine hearts and both sides of bread slices with oil. Place Romaine hearts, cut sides down, and bread on hot rack; leaving lid up grill, turning bread slices once and leaving Romaine in place until impressive grill marks form, about 5 minutes.

Place a couple of bread slices on each serving plate; top with a Romaine heart, drizzle with dressing, sprinkle with coarsely grated or shaved Parmesan and serve.