Grilled Italian Sausage Sandwich
Grilled Italian Sausage Sandwich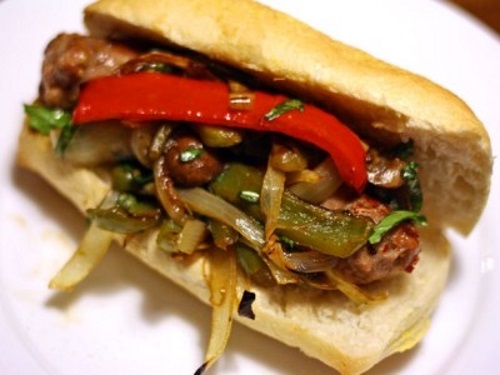 INGREDIENTS
Serves 6 to 8 people
3 pounds of Italian sausage, hot or mild

2 green bell peppers

2 red bell peppers

3 Tbls of olive oil

1 yellow onion, sliced

8 baby portabella mushrooms, sliced

1 15oz can of diced tomatoes

5 fresh basil leaves

1 tsp of dried oregano

1 Tbls of balsamic vinegar

1/2 tsp of salt

1/2 tsp of fresh ground black pepper

 rolls of your choice

4 Tbls of butter, softened

2 cloves of garlic, crushed

1 Tbls of oregano

1/4 cup of fresh parmesan cheese
Directions
Preheat the gas or charcoal grill.

Cut the peppers into quarters and clean out all the seeds.

Place the peppers on the grill skin side down for about 20 minutes until the skins are charred black.

Place the peppers in a bowl and cover with plastic wrap until they are cool enough to handle. Around 20 minutes.

Remove the skin from the peppers, cut into strips and set aside.

Place the sausages on the grill and cook for around 15 to 20 minutes turning the sausages throughout the cooking process.

Meanwhile in a large frying pan sauté the onions and mushrooms in the olive oil for 2 to 3 minutes.

Add the tomatoes, basil, oregano, vinegar, salt and pepper

Add the peppers and heat through.

Prepare the  rolls by creaming the butter and garlic together and spreading it on the rolls

Sprinkle with oregano and parmesan cheese and broil or grill until the bread is lightly toasted.

Place the sausage on the bread and top with the delicious pepper mixture.