Grilled Shrimp with Pasta and Fresh Tomatoes
Grilled Shrimp with Pasta and Fresh Tomatoes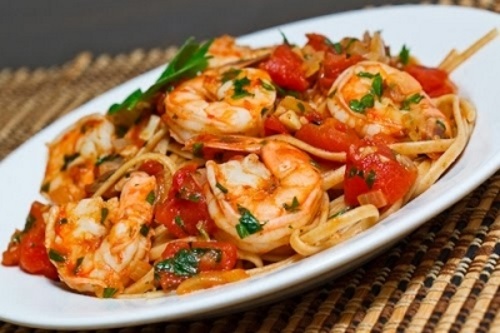 INGREDIENTS
Serves 4
1 pound of large shrimp, peeled and deveined

4 large Roma tomatoes, chopped

6 baby Portobello mushrooms, sliced

1 shallot, chopped

3 cloves of garlic, finely chopped

10 basil leaves, chopped

2 Tbls of butter

2 Tbls of extra virgin olive oil

1/4 cup of balsamic vinegar

1 Tbls of Dijon mustard

1/2 tsp of salt

1/2 tsp of freshly grated black pepper

1 pound of dried or fresh linguini
PREPARATION
In a medium sized pan sauté the shallots, garlic and mushrooms in the butter and olive oil for 3 minutes.

Stir in the tomatoes, vinegar and mustard and cook for 5 more minutes.

In the meantime bring 6 quarts of salted water to a boil and cook the pasta a until al dente.

Prepare the grill.

Brush the shrimp with oil and season with salt and pepper.

Grill the shrimp directly over the coals or gas burner until pink for around 2-3 minutes on each side.

Drain the pasta and toss in the tomatoes, mushrooms and basil mixture.

Top with the shrimp and serve.