Grilled Spiced Peaches Recipe
Grilled Spiced Peaches Recipe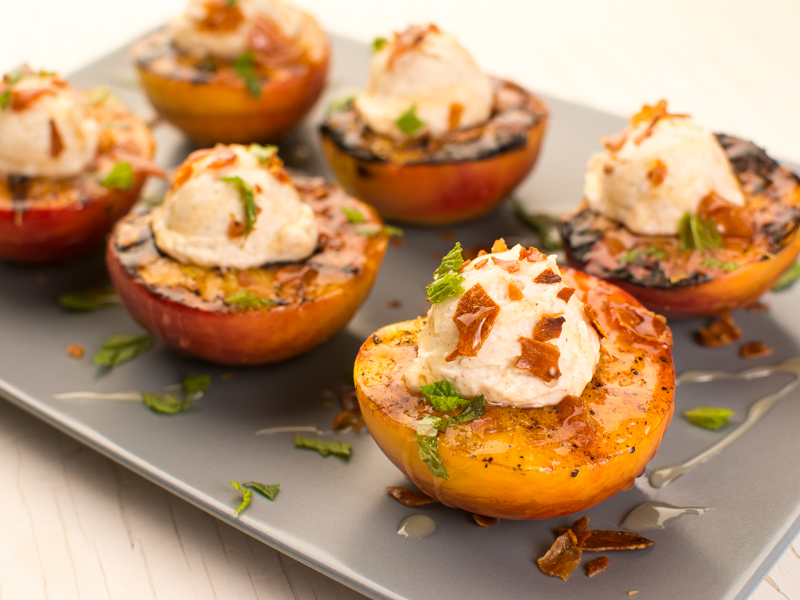 A platter of these sweet and savory peaches didn't last long in our test kitchen. They were gobbled up as soon as they came off the grill each time we made them. They make a great backyard BBQ party appetizer.
INGREDIENTS
4 to 8 servings
4 oz. mascarpone cheese
2 oz. goat cheese
1 1/2 tsp. Georgia Peach Spice, divided
3 slices prosciutto
4 firm but ripe peaches, halved
1 Tbsp. olive oil
1 tsp. Maldon Sea Salt
3 sprigs of mint, roughly chopped
DIRECTIONS
Mix mascarpone cheese and goat cheese with 1 tsp. of the Georgia Peach Spice and set aside.
Preheat a well-oiled grill to medium-high.
Lay prosciutto slices on a small piece of foil and place on the grill.
Turn pieces over every few minutes until just crisp.
Remove from grill, let cool then roughly chop.
Meanwhile, toss peach halves in olive oil and sprinkle with salt.
Grill peaches flesh side down for about 3 to 5 min. then turn over and cook for 1 more min. They should have nice grill marks but still be firm enough to keep their shape.
Remove peaches from grill, arrange on a platter and sprinkle with remaining 1/2 tsp. Georgia Peach Spice.
Top each half with a small scoop of the spiced cheese and sprinkle with crispy prosciutto and fresh mint.