Grilled Stuffed Calamari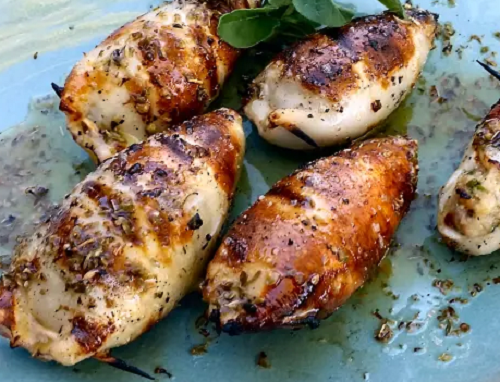 A easy and totally tasty summer grilling idea
For the calamari:
12 medium or 16 small calamari, cleaned
4 cups buttermilk (or 4 cups milk plus 4 tablespoons lemon juice)
For the stuffing
¼ cup olive oil (2 oz.)
1½ cups chopped yellow onion (7 oz., 2 medium)
4 cloves garlic, minced
½ cup chopped prosciutto (3 oz.)
1½ cups fresh bread crumbs (3 oz.)
¼ cup freshly squeezed lemon juice (2 oz.)
6 tablespoons chopped fresh parsley
1 egg, lightly beaten
salt and pepper (to taste)
For the dressing:
1/3 cup olive oil (3 oz.)
3-4 tablespoons freshly squeezed lemon juice (up to 2 oz.)
2 tablespoons dried oregano
Directions
Tenderize the calamari by soaking them in buttermilk for at least an hour. Leave the calamari bodies whole and dice the tentacles. In a medium bowl, lightly beat the egg; set aside.
In a medium pan over medium heat, warm the olive oil. Add the onion and cook until tender, stirring occasionally, about 8 to 10 minutes. Add the garlic, ham, tentacles and breadcrumbs. Stir until well blended, about two minutes. Add the lemon juice, parsley and salt and pepper (to taste).
Add this mixture to the bowl with the beaten egg. Mix well and allow it to cool. Mix together the dressing ingredients in a small jar and shake well.
Rinse the buttermilk from the calamari and pat dry. Stuff the calamariwith the cooled filling and skewer the tops closed with toothpicks. Brush each side with olive oil and sprinkle with salt and pepper. Heat a grill to medium-high heat, (400 to 450 degrees F). Grill the calamari, turning once, until firm and light grill marks appear, about 3 minutes on each side.
Shake the jar to mix the dressing well again. Place the grilled calamari on a serving platter and spoon the dressing over them.