Grilled Swordfish or tuna, halibut or cod with Peperonata
Grilled Swordfish or tuna, halibut or cod with Peperonata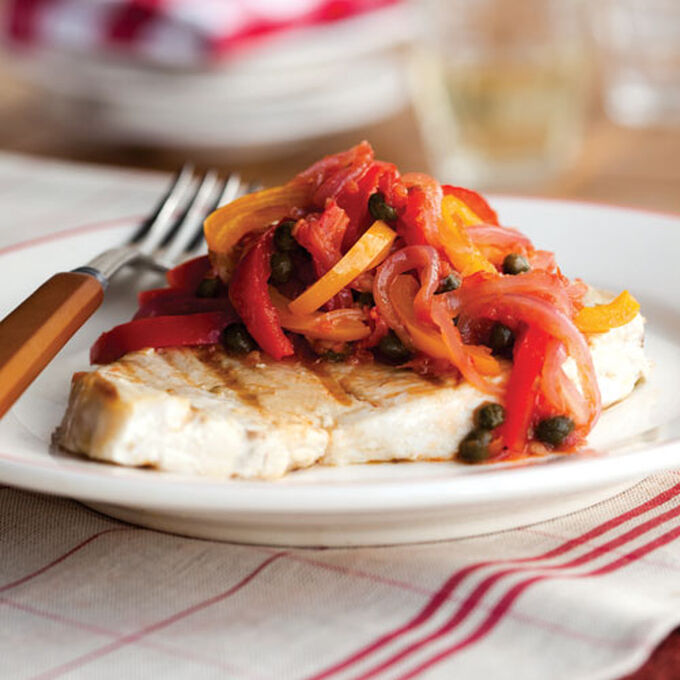 Peperonata—braised peppers with tomato and onion—is typically served as an antipasto or side dish, but it makes a superb fish topping. Substitute tuna, halibut, or cod for the swordfish, if you prefer. Swordfish should be sliced thin and cooked quickly for maximum juiciness. If your merchant has already sliced it into thick steaks, ask to have it halved horizontally, or do it at home yourself with a long, thin knife.
Ingredients
Makes 4 servings
Peperonata:
3 tablespoons extra virgin olive oil

½ large red onion, thinly sliced

2 cloves garlic, minced

1 cup grated plum (Roma type) tomato

2 large bell peppers, 1 red and 1 gold, seeds removed and cut lengthwise into ¼-inch-wide strips

Kosher or sea salt

Generous pinch of hot red pepper flakes

1½ tablespoons capers, preferably salt packed, rinsed

Red or white wine vinegar

12 fresh basil leaves, plus more for optional garnish

4 swordfish steaks, about 6 ounces each and ½ inch thick

Extra virgin olive oil

Kosher or sea salt

1 teaspoon fennel seed, crushed in a mortar or spice grinder
Procedure
To make the peperonata,
Heat 2 tablespoons of the olive oil in a large skillet over moderately low heat.

Add the onion and garlic and sauté until the onion is soft, about 5 minutes.

Add the tomato and simmer until it loses its raw taste, about 5 minutes.

Add the bell peppers and season with salt and hot pepper flakes.

Cover and simmer gently until the peppers are tender, about 25 minutes.

Add a tablespoon or two of water if the mixture looks dry, or uncover the skillet at the end of cooking to evaporate moisture if the mixture is too juicy. The juices should be concentrated, not runny.

Stir in the capers and a splash of vinegar to brighten the flavor, then taste for salt.

Set aside to cool until just warm, not hot. Stir in the basil, torn into smaller pieces.
Fish
While the peperonata is cooking, prepare a moderate charcoal fire or preheat a gas grill to medium (375°F).

When the peperonata has been set aside to cool, brush the fish generously on both sides with olive oil, then season on both sides with salt and fennel seed.

Grill directly over the coals or gas flame, turning once, until the fish is white throughout but still juicy, 2 to 3 minutes per side.
Dish
Transfer the swordfish to a serving platter.

Top each steak with some of the warm peperonata, mounding it attractively.

Garnish with more basil, torn into smaller pieces. Serve immediately.