Halloween Graveyard Cake Recipe
Halloween Graveyard Cake Recipe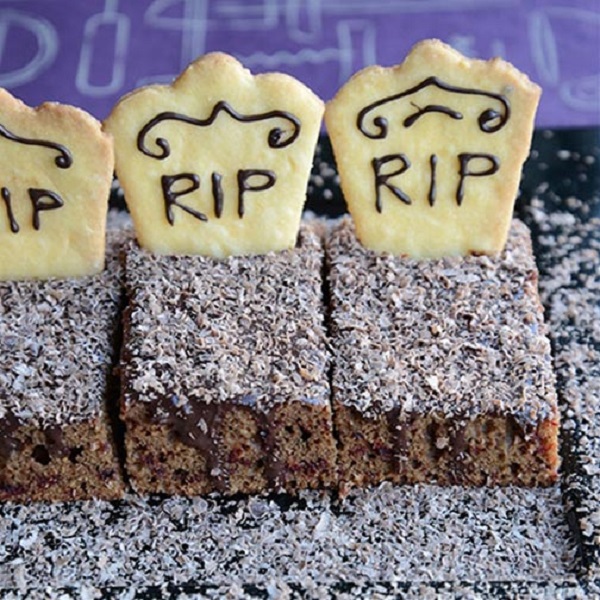 by GourmetFoodStore.com
A fun and deliciously spooky Halloween treat that you can make with kids! We give you two recipes in one – a buttery shortbread cookie recipe and a yummy chocolate cake with bittersweet chocolate frosting. Serve it as one big cake, or many mini "graveyard" cakes.
Prep Time:
Cook Time:
Total Time:
Yield: 1 cake
Halloween Graveyard Cake Recipe Instructions
Ingredients
Cake
½ cup buttermilk
1/3 cup corn oil
4 large eggs
1 cup sugar
1 ½ cup rising flour
2.5 oz. cocoa powder
butter (to butter mold)
Frosting
5.5 oz. Bittersweet chocolate, chopped
3.4 cups cream
2 oz bittersweet chocolate, grated
Cookies
1 cup all purpose flour
6 ¼ oz. butter, cubed and at room temperature
1/3 cup powdered sugar
2 egg yolks
3 drops vanilla extract
2 oz. bittersweet chocolate
2 tbsp. Cream
Directions For Cookies
Print and cut out a tombstone stencil over cardboard. Alternatively, you can draw it by hand. Set aside.
Sift the flour over your counter and make a bowl-like indentation in the middle.
Place the butter, powdered sugar, yolk and vanilla extract in the inedentation.
Start mixing the ingredients, folding the flour into the wet ingredients, and forming the dough. Alternatively, you can also do this with an electric mixer with paddle attachment.
After the dough ball is formed, flatten into a disc, wrap in film and let chill in the fridge for at least 1 hour before use.
Turn the oven to 350 C.
Remove the dough from the fridge and cut into 3 or 4 sections. Over a floured surface, roll each  one into ¼ inch thick discs.
Using your cardboard mold to guide you, cut out the dough into the tombstone shape, using a sharp pointed knife.
Transfer the cookies to a baking sheet lined with wax paper, and place back in the fridge for another 15 minutes.
Bake until just lightly golden, about 8 minutes. Set aside to cool.
Melt the chocolate with the cream, and use it to decorate the cookies, using a piping bag.
Directions For Cake
Turn oven to 350 F.
In a bowl, combine the buttermilk with the oil.
 In a different bowl, beat the eggs with the sugar, until it turns light and frothy. Add the buttermilk and oil mix, mixing gently to incorporate. Sift the flour and cacao powder and fold into the mix, using a spatula.
Line your cake mold with waxed paper, then grease both the paper and the sides of the mold with butter.
Bake for about 24 minutes. To test for doneness, insert a toothpick into the cake, if it comes out clean and dry, it's ready. Remove from oven and let it cool over a rack. Once cooled down, unmould, and cut into rectangular portions. Reserve.
For the frosting, start by heating the cream. Once it reaches a boil, remove from the stove and add the chopped chocolate, but do not mix. After a few minutes, mix with a spatula until combined and leave to cool and thicken.
Cover each mini cake with the chocolate icing, using a spatula or palette knife. Place a Tombstone Cookie on each cake. Finish off with a sprinkling of grated chocolate.