Hamburgers with Gorgonzola and Porcini
Hamburgers with Gorgonzola and Porcini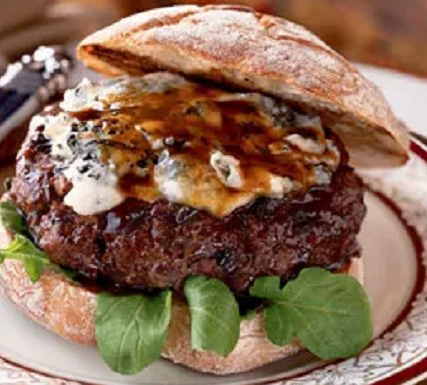 Ingredients:


For the Sauce:
3 tablespoons extra virgin oil
3 and 1/2 lbs meaty veal bones (such as shank knuckle bones or neck bones)
1 medium onion, chopped
1 medium carrot, chopped
1 celery stalk with leaves, chopped
12 cups cold water, divided
2 teaspoons tomato paste
2 fresh parsley sprigs
2 fresh thyme sprigs
1/4 teaspoon black peppercorns
2 cups dry red wine

For the Hamburgers:
2 cups water
1 and 1/2 ounces dried porcini mushrooms, broken into 1/2-inch pieces
3 pounds ground sirloin
1 and 1/2 teaspoons salt
3/4 teaspoon ground black pepper
2 tablespoons (1/4 stick) chilled unsalted butter
Six 4-inch square or round sourdough rolls, halved horizontally
Fresh arugula
Extra virgin olive oil
Six 1/4-inch-thick slices Gorgonzola cheese

Directions:

Prepare the Sauce:
Heat olive oil in heavy large pot over medium-high heat.

Add veal bones and saute until deep brown on all sides, about 12 minutes.

Transfer bones to bowl.

Add onion, carrot, and celery to pot.

Saute until browned, about 6 minutes.

Add 2 cups cold water, tomato paste, herbs, and peppercorns; bring to boil, scraping up browned bits.

Add bones with any accumulated juices, then remaining 10 cups water to pot.

Bring to boil.

Reduce heat to medium-low and simmer uncovered until stock is reduced to 2 and 1/2 cups, about 4 hours.

Strain into 4-cup glass measuring cup, pressing on solids to extract as much liquid as possible.

Refrigerate stock uncovered 1 hour.

Spoon off fat from surface of stock.

Place stock in heavy medium saucepan; add wine and simmer until reduced to 1 cup demiglace, about 25 minutes.

Prepare the Hamburgers:
Bring 2 cups water and mushrooms to boil in small saucepan.

Remove from heat, cover, and let stand until mushrooms soften, about 20 minutes.

Using slotted spoon, transfer mushrooms to medium skillet.

Slowly pour soaking liquid into skillet, leaving any sediment behind.

Boil over medium-high heat until liquid is reduced to glaze, stirring occasionally, about 6 minutes.

Cool mushrooms.

Transfer to work surface; chop mushrooms coarsely.

Transfer mushrooms and any juices to large bowl.

Add meat, salt, and pepper; mix gently.

Shape mixture into six 1-inch thick patties.

Place on foil-lined baking sheet.

Preheat broiler.

Rewarm demiglace over medium-low heat; add butter and whisk until melted.

Remove from heat.

Place rolls, cut side up, on baking sheet.

Broil until lightly toasted, about 2 minutes.

Remove rolls; maintain broiler setting.

Arrange roll bottoms on plates.

Top with arugula.

Heat 2 large broiler proof skillets over medium-high heat; brush with olive oil.

Add 3 burgers to each skillet.

Cook to desired doneness, about 5 minutes per side for medium-rare.

Top each burger with slice of cheese.

Broil burgers until cheese begins to melt, about 1 minute.

Place burgers on roll bottoms; spoon some demiglace over.

Cover with roll tops.

Serve, passing remaining demiglace separately. Serves 6.