Happy Thanksgiving Sugar Cookie Gift Tin
All cookies are baked and decorated after your order is received.
Click here for more information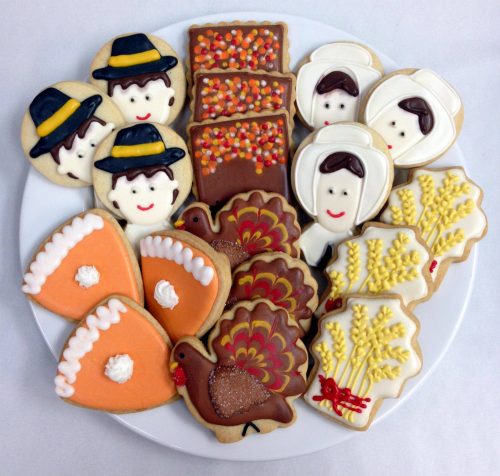 This Happy Thanksgiving Sugar Cookie Gift Tin by Sugar & Flour Handcrafted Cookies includes unique individually hand decorated home-made sugar cookies packaged in a reusable silver gift tin. All 18 cookies are homemade, generously sized, and individually hand decorated in six shapes, three of each – boy pilgrims, girl pilgrims, turkeys, fancy squares, wheat bundles, and pumpkin pie slices. The frosted sugar cookies are flavored with vanilla and almond and come carefully packaged in layers in a resuable silver gift tin. Designs and decorations of cookies may vary. These Happy Thanksgiving cookies will be a festive gift for any special occasion this fall.