Harvest Lasagna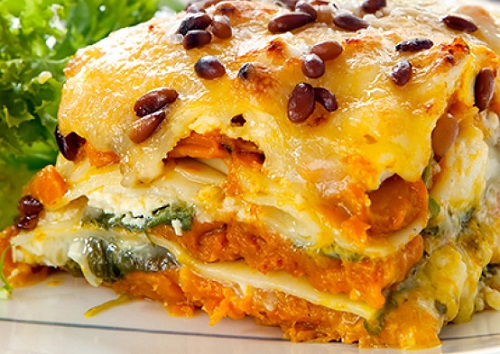 Yield: 10 TO 12 servings
LASAGNA SAUCE:

1 tablespoon olive oil

1 large onion, sliced

1 clove garlic, chopped

3 (14-ounce) cans diced tomatoes

1/8 cup sherry vinegar

1 tablespoon minced fresh oregano or 2 teaspoons dried

1 tablespoon chopped fresh basil or 2 teaspoons dried

1 teaspoon salt

1/2 cup tomato puree

F I L L I N G :

1/4 cup olive oil

1 onion, sliced

4 cloves garlic, chopped

2 medium  squash, peeled and seeded, quartered lengthwise, and sliced thinly

1 small eggplant, sliced

2 small zucchini, chopped into 1-inch pieces

1/2 head of broccoli, chopped into 1-inch pieces

1 red bell pepper, chopped into 1-inch pieces

3 cups spinach leaves, stemmed and coarsely chopped

2 teaspoons minced fresh thyme or 1 teaspoon dried thyme

2 teaspoons salt

1/2 cup Basil–Walnut pesto

3 cups ricotta cheese

1 package lasagna noodles, prepared according to package directions

1 1/2 cups fresh mozzarella, grated or crumbled (use tofu cheese for vegan version)
Instructions:
Eggplant, zucchini, peppers, onions, sautéed greens, and pesto ricotta turn this classic dish into a virtual feast of the season. Topped off with fresh, locally made mozzarella, just one piece of this lasagna is a filling, satisfying meal. The sauce is fragrant and flavorful and works for pizza too.
To make the sauce, heat the olive oil in a saucepan over medium heat and sauté the onions and garlic for 3 to 4 minutes.

Add the diced tomatoes, vinegar, oregano, basil, and salt and simmer for 5 minutes. Then add the tomato puree and simmer another 10 minutes. This will make about 5 cups of sauce— plenty for the lasagna recipe, with a little left over to keep in the refrigerator (up to 1 week) or freezer.

To make the filling, heat the olive oil in a large saucepan and sauté the onion, garlic, and squash. Add 2/3 cup of water and let the squash steam in the covered pan for 10 to 15 minutes until it is soft. Move the squash mixture to a bowl and set it  aside. Add the eggplant, zucchini, broccoli, and red pepper to the saucepan and sauté for 2 to 3 minutes, then add the spinach, thyme, and salt, and remove the pan from the heat.

In a separate bowl, combine the pesto with the ricotta cheese.

Preheat the oven to 375 degrees. To assemble the lasagna, spread lasagna sauce to cover the bottom of a 9×13-inch pan.

Cover the sauce with a layer of noodles, then layers of ricotta, squash, and vegetables. Add two more layers of sauce, noodles, ricotta, squash, and vegetables. Finish with a layer of noodles, then top the noodles with sauce and mozzarella cheese.

Cover the pan with foil and bake for 40 minutes. Remove the foil and bake for another 15 minutes. The cheese should be browned and bubbly, and the noodles should be tender and moist.