Hazelnut and Orange Amaretti
Hazelnut and Orange Amaretti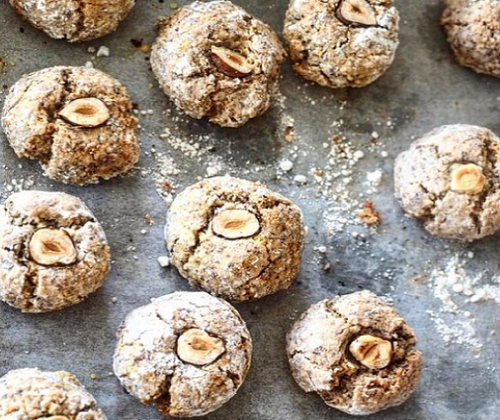 crunchy on the outside with a soft and chewy heart, and keep for weeks in a glass jar!
Ingredients
300 g of hazelnut, ground in the food processor (or ready made hazelnut meal) (I ground mine with their skin on), plus some whole ones to place on top of the shaped cookies
250 g caster sugar
2 egg whites
finely grated zest of 1 orange
icing sugar, for dusting
1. Preheat the oven to 180°C. Line a baking tray with baking paper.
2. Mix the ground hazelnuts and sugar in a large bowl. Add the egg whites and zest and mix through to create a paste (using your hands is best here). Pinch off pieces of paste and shape into walnut sized balls (give or take!). Dust in the icing sugar to coat well. Place a piece of hazelnut on top of each cookie. then arrange onto the lined tray, leaving room for spreading. Bake for 10-12 minutes or until the cookies look slightly cracked and the bottom is firm
3. Cool on a rack. These biscuits keep for weeks in an airtight container, so you can double the ingredients if you like and make a bigger batch.