Homemade Spicy Italian Breakfast Sausage
Homemade Spicy Italian Breakfast Sausage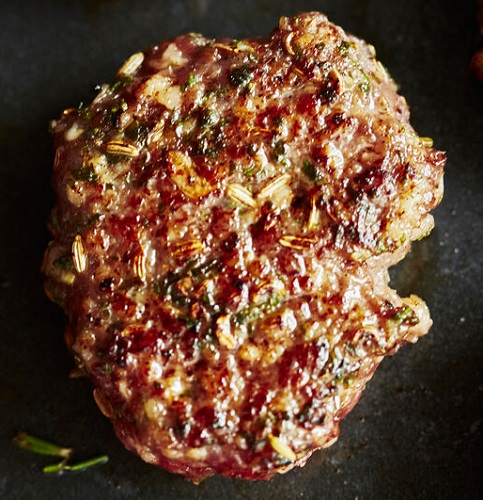 Serves
Makes 16 patties
Ingredients
3 pounds pork butt

2 tablespoons granulated sugar

1½ tablespoons sea salt

1 tablespoon freshly ground black pepper

2 tablespoons finely chopped fresh oregano

2 tablespoons finely chopped garlic

2 teaspoons chile flakes

2 tablespoons toasted fennel seeds

1 tablespoon paprika, sweet not smoked

1 cup very cold red wine

1 tablespoon vegetable oil, plus more for testing
Procedure
Nothing beats sausage that you make yourself! The basic ratio for sausage is 3 parts meat to 1 part fat. We like to use pork butt because it has great ratio. If you find your pork is a bit lean, you can purchase pork fat back to enrich your mixture. The spice level is medium in this recipe, add more chile flakes if you like a little more fire. If you don't have a meat grinder, substitute ground pork or ask your local butcher for a custom grind.
Cut the meat into 1-inch cubes and place them in a 9- x 13-inch baking dish. Toss the meat together with the sugar, salt and pepper until well combined and transfer the baking dish to the freezer until well chilled but not frozen, about 1 hour. Place the grinder parts, blades, course die and bowl of the stand mixer you'll be using into the freezer too. Keeping everything well-chilled will ensure a successful sausage outcome.
Grind the meat mixture into the bowl of the stand mixer and attach the bowl to the stand mixer fitted with the paddle attachment. Using the lowest setting mix in the oregano, garlic and spices until evenly combined. Slowly add the cold wine to the mixture and mix until the liquid is incorporated and the mixture looks sticky, 1 to 2 minutes.
Take a small spoonful of the sausage and fry it in a small skillet with a little oil until cooked through. Taste and adjust seasoning with salt if necessary.
Using wet hands, form the meat into 3-inch patties (about ½-inch thick).
Heat a large skillet over medium-high heat and add the oil. When the oil is shimmering, add the sausage patties and fry on both sides until golden brown and cooked through, 8 to 10 minutes. Drain on a paper towel-lined plate and serve immediately.