Honey and Red Wine Glazed Ham Recipe
Honey and Red Wine Glazed Ham Recipe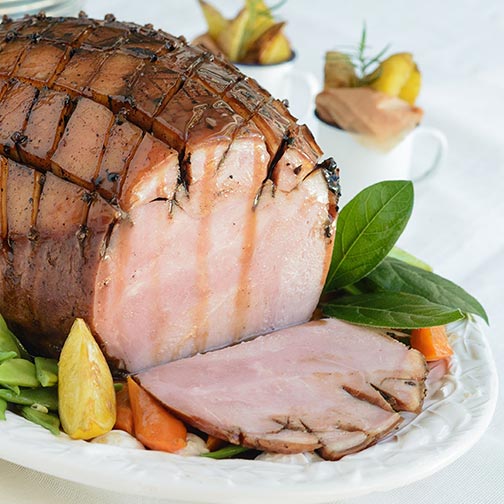 This recipe for a mouthwatering glazed ham will make you the talk of the dinner party circle. Glazed with a mix of honey, sugar and red wine, it's sweet, it's savory, it's impressive and it will keep you going for many meals.
Honey and Red Wine Glazed Ham Recipe
Prep Time:
Cook Time:
Total Time:
Yield: 1 ham
Ingredients
1 pre-cooked ham – 11 lbs.
1/3 cup whole cloves
½ cup honey
1 cup sugar
½ cup Brown sugar
1 tsp. strong mustard
Juice of 3 oranges
Juice of 3 lemons
1 ½ cup port or red wine
¼ cup red wine vinegar
Hot water as needed
Directions
Heat oven to 375F.
Cut the surface of the ham in a diamond pattern with a sharp knife and put a clove in each corner
Mix the honey, sugar, brown sugar, mustard, the orange and lemon juice and boil for 3 minutes over high heat in a small pan. Remove the pan from heat and add the wine and vinegar and mix.
Place the ham in a roasting pan, pour the glaze and roast for 60 to 90 minutes, basting with the glaze every 10-15 minutes and adding water as needed to prevent drying
Once done, remove from oven and carve while hot or at room temperature. Serve the liquid as a sauce or discard.
Can be frozen cold, thaw at room temperature.