Honey Roasted Squash and Burrata Cheese Salad Recipe
Honey Roasted Squash and Burrata Cheese Salad Recipe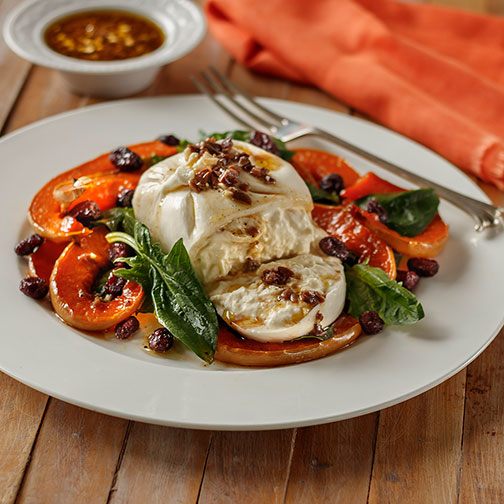 by GourmetFoodStore.com
We are absolutely in love with this amazing salad which we'll be featuring prominently during the fall months! Creamy fresh burrata spilling over honey-roasted squash, paired with a citrusy black olive and balsamic dressing. Yum!
Prep Time:
Cook Time:
Total Time:
Yield: Serves 4
Honey Roasted Squash and Burrata Cheese Salad Recipe Instructions
Ingredients
Salad
3/4 lb butternut squash wedges
1 tsp salt
½ tsp pepper
3 garlic cloves not peeled and crushed
2 tbsp olive oil
2 tbsp honey
4 burrata cheese pieces
4 tbsp cranberries
1 bunch baby spinach
Black Olives and Garlic Citrus Salad Dressing
4 tbsp olive oil
2 tbsp black olives finely chopped
1 small garlic clove finely chopped
Juice of 1 orange
1 tbsp Aceto Balsamico
1 tsp salt
½ tsp black pepper
Directions
Salad
Season the squash wedges with salt and pepper.
Put in a cooking oven pan with the garlic on the side, drizzle olive oil and honey. Toss to coat. Bake for 20-25 minutes until golden. Cool.
Divide the spinach leaves into 4 plates mixed with the squash wedges. Place 1 burrata on top in the middle of the plate, top with cranberries.
Dressing
Mix all the ingredients of the dressing, drizzle over the salad.