Insalata di Olive Verdi Schiacciate – Crushed Green Olive Salad
Insalata di Olive Verdi Schiacciate – Crushed Green Olive Salad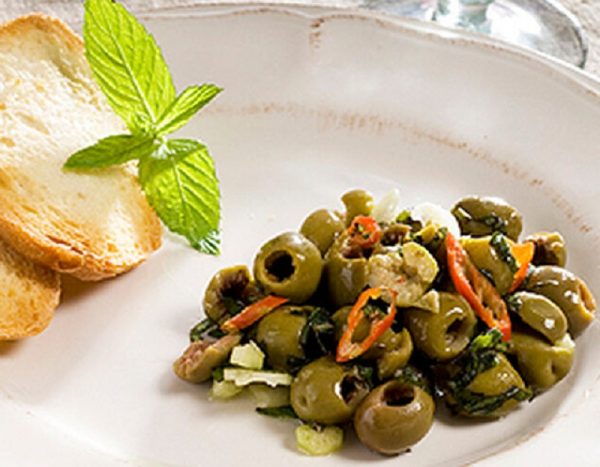 By by Academia Barilla, adapted by the Sur La Table kitchen
Nocellara Del Belice is the most famous of Sicily's olives. The modern Sicilian diet relies heavily on grains, vegetables, herbs and spices, olives and olive oil, fruit, nuts, seafood and cheeses. This diet leaves clues to the many people and cultures that have established themselves on the island, including the Siculi and Sicani, the Greeks, Romans, Arabs, Normans and Spanish.
Ingredients
Makes 10 servings
2 pounds Pitted Sicilian Nocellara del Belice Olives DOP Academia Barilla

10 mint leaves, chiffonade

10½ oz celery, julienne (about ½ bunch)

3 tablespoons Extra Virgin Olive Oil Monti Iblei DOP Academia Barilla

Balsamic Vinegar from Modena Academia Barilla, to taste

Salt, to taste

Chili flakes, to taste
Procedure
Crush the olives and soften in water for a couple of hours.

Drain and dry them well;

Place in a bowl and add mint leaves and celery

Toss salad with oil, vinegar, salt and chili flakes to taste

Serve with toasted bread.