Italian Lady's Fingers Recipe (Savoiardi)
Italian Lady's Fingers
(Savoiardi)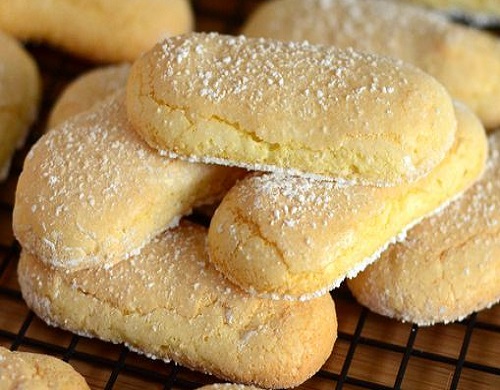 Ingredients:
3  eggs, separated
1 teaspoon (5 ml) vanilla extract
3 oz (75 grams) self-raising flour
1 teaspoon (5 ml) baking powder
1/4 teaspoon (1.25 ml) salt
3 oz (75 grams) caster or superfine sugar
Directions:
Pre-heat the oven to 180°C (350°F)
Beat the egg yolks until thick, then beat in the vanilla extract.
Sift the flour and baking powder together.
Whisk the egg whites until stiff then whisk in the salt and sugar until the whites are glossy and very stiff.
Using a metal spoon, fold in the egg yolks, then the sifted flour.
Drop tablespoons of the batter onto an ungreased baking tray, forming fingers measuring about 8 x 2 and 1/2-inch (20 x 6 cm).
Bake in the oven for 10 minutes until golden.
Transfer to a wire rack and leave to cool. Makes 12.