Italian Quesadillas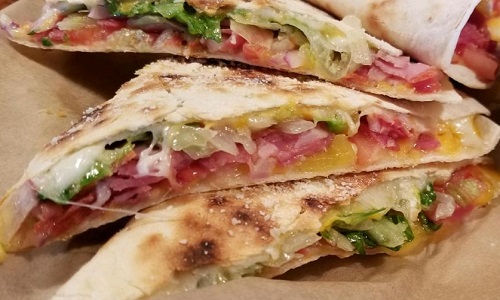 Celebrate Cinco De Mayo with Italian flare
Ingredients
    4 Large Tortillas
    1 ½ Cups of shredded Mozzarella
    ¼ Pound of Prosciutto, sliced thin
    ¼ cup of Pesto
    Tiny bit of Olive Oil
Preparation
1) Preheat a non stick skillet or griddle over medium high heat, add about 1 tsp of oil and let it get hot.
    2) Add one tortilla down on your work surface and spread 1 tbsp of the pesto evenly all over it. Place the tortilla in the hot pan and sprinkle some of the cheese on top of the pesto, place a couple of the prosciutto slices on half of it and once the cheese starts to melt, fold it over and cook it on both sides until the cheese has fully melted and the both sides are golden brown.
    3) Repeat this process with the remaining tortillas. Cut into quarters and enjoy!