Italian Roast Beef & Vegetables with Parmigiano Reggiano Rind
Italian Roast Beef & Vegetables with Parmigiano Reggiano Rind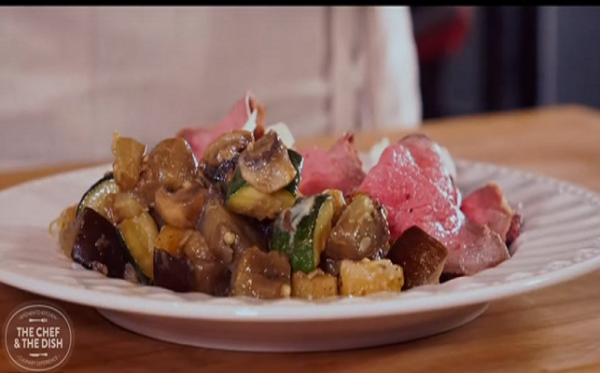 Perfect for a cozy Sunday supper. This recipe comes from the kitchen of Chef Paola Martinenghi. Want to learn more delicious recipes? Just video conference her into your kitchen for a private 1:1 cooking class!
Italian Beef & Vegetables with Parmigiano Reggiano Rind
Serves 4
Ingredients:
FOR ITALIAN ROAST BEEF
1.5 Kg topside beef
2 medium onions
2 carrots
2 celery sticks
1 bulb of garlic
1 bunch of mix herbs (rosemary, sage and bay)
1 wedge of Parmigiano Reggiano
100 g butter
FOR VEGETABLES WITH PARMIGIANO REGGIANO RIND
1 eggplant
1 broccoli
2 carrots
1 onion
1 clove of garlic
1 chilli
EVOO
Salt & PEPPER
Rind of Parmigiano Reggiano
Instructions:
FOR THE ITALIAN BEEF:
Remove the beef out of the fridge 30 mins (at least) before to cook it.
Preheat the oven to 425° .
Roughly chop the vegetables and cut the garlic bulb in half
Put the veggies, herbs and half of the garlic into a large roasting tray and drizzle everything with oil
Massage the beef with EEVO and salt
Hit a large fry pan and melt some butter hand put the other half of the garlic bulb into it. Roast for 2 mins every sides of the beef.
Put the beef on top of the veggies and bake for 1 hour (medium) if you prefer medium rare (50 mins)
The the tray out of the oven and let the beef rest on a grill for 15 mins, cover it with aluminum foil.
Blend the rest of the vegetable (without the garlic) with some water or broth and serve it in a bowl.
Cut the meat in thin slices and put it on a tray drizzle some EVOO and black pepper on top of it. then create thin slices of Parmigiano Reggiano using potato peeler, and gently put them on the beef.
FOR VEGETABLES WITH PARMIGIANO REGGIANO RIND
In a large sauté pan, add EVOO and sauté sliced onion, chili, and garlic
Cut your mixture of vegetables in cubes and fry until tender
Cut the rind of Parmigiano Reggiano into small square cubes and add to the pan
Sauté until the rind becomes slightly melty
Add salt and pepper and serve family style!