Italian Seasoned Chicken on Homemade Ciabatta Bread
Italian Seasoned Chicken on Homemade Ciabatta Bread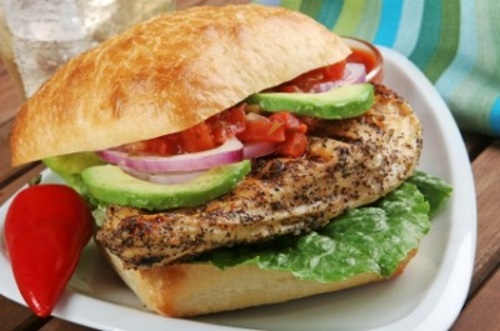 INGREDIENTS
Serves 4 people
Ciabatta Buns
4 cup of unbleached all-purpose flour

2 cups of warm water

2 tsp of wheat gluten

1 tsp of salt

1/2 tsp of sugar

1/4 tsp of instant yeast

Cornmeal (for dusting)

PREPARATION

Using a KitchenAid, pour the water, wheat gluten, salt, sugar, and yeast in the bowl.

Let stand for 10 to 13 minutes.

Attach the dough hook to the mixer and add the flour to the mixture a little at a time and blend on slow speed.

Turn the speed up one notch and continue to blend the mixture while scraping the sides with a spatula.

The mixture will form a sticky dough that resembles a thick cake batter.

Cover the bowl with a dish towel and set aside in a warm spot for around 8 to 10 hours until tripled in size.

Dust a baking sheet with the cornmeal and pre-heat the oven to 400 degrees.

Toss the dough out on a floured board and kneed for 2 minutes.

Cut the dough into 4 pieces.

Flour your hands and shape the dough into squares.

Place the dough on the cookie sheet and dust with more cornmeal.

Bake for 25 to 30 minutes until the buns are golden brown on top.

Remove and let stand on a wire rack for 5 to 10 minutes before slicing.

INGREDIENTS

Seasoned Chicken

4 boneless chicken breasts

1 Tsp of salt

1 tsp of fresh ground black pepper

1/2 tsp of dried oregano

1/2 tsp of dried basil

1/2 tsp of dried thyme

1/2 tsp of dried marjoram

1 tsp of garlic powder

3 Tbls of extra virgin olive oil

1 avocado, peeled, seeded and sliced

3 Roma tomatoes, diced

1 small red onion, thinly sliced

4 pieces of lettuce

Mayonnaise

PREPARATION

In a small bowl, mix together the pepper, salt, oregano, basil, thyme, marjoram and garlic powder.

Sprinkle the mixture on both sides of the chicken breasts

In a large frying pan, sauté the chicken breasts in the olive oil for 3 to 4 minutes on each side.

Assemble by placing the mayonnaise on the ciabatta bread, add the lettuce, chicken, avocado, red onion and chopped tomatoes.