Leek and Garlic Risotto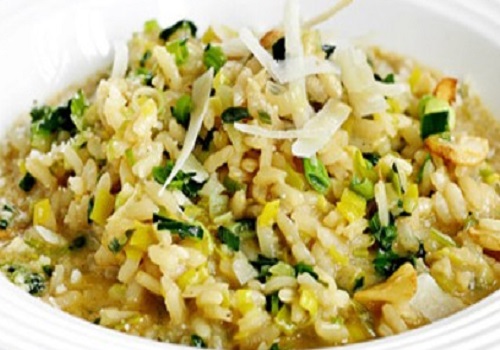 Ingredients:
1 cup Arborio rice
1/2 cup dry white wine
3 and 1/3 cups chicken stock
1 lemon, juiced
1/4 cup Mascarpone cheese
3 tbs Parmigiano cheese
1 leek, ends trimmed and chopped
3 stalks garlic, ends trimmed and chopped
2 tbs extra virgin olive oil
Directions:
In a large pan heat 1 tbs of olive oil over medium high heat.
Add the rice and let it toast for about 90 seconds.
Add the white wine to the pan and stir.
Once the white wine has been evaporated, add the chicken stock 1/2 cup at a time, letting the liquid soak up before adding the next round.
Repeat this step until the stock is used up and the rice is tender.
Add the mascarpone cheese and Parmigiano cheese.
Season with salt and pepper as needed.
In another skillet heat the last tablespoon of olive oil over medium high heat.
Add the chopped and cleaned leeks and green garlic to the pan and saute for 5 minutes until soft.
Combine the sauteed vegetables with the rice portion.
Sprinkle with Parmigiano cheese and serve. Serves 2.