Lemon and Almond Cake with Vanilla frosting
Lemon and Almond Cake with Vanilla frosting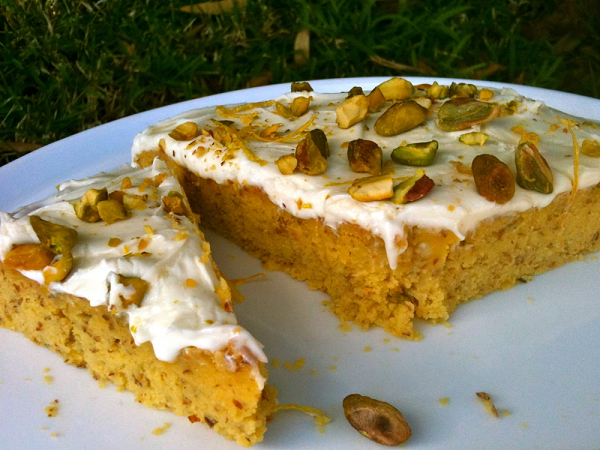 INGREDIENTS, serves 8
For the cake
2 large lemons, whole
250 gr of sugar
250 gr of almond meal (almond flour)
5 egg yolks
1 teaspoon of baking powder
5 egg whites, whipped to soft peaks
HOW TO
1. Boil two large lemons for two hours then blend them, whole, in a food processor with 250 gr of sugar, 250 gr of almond meal and 5 egg yolks.
2. Add a teaspoon of baking powder. Whisk 5 egg whites until they form soft peaks. Gently fold in the lemon mixture.
3. Pour onto a greased and floured cake tin and bake at 170 degrees Celsius (338 degrees Fahrenheit) for 40/45 minutes.
Cool down in the tin, then reverse onto a cake stand and ice with vanilla frosting.
For the vanilla frosting
75 gr soft butter
375 gr icing sugar ( I know, it's a lot. Keep your kids away or they'll be bouncing off the walls within seconds!)
1 1/2 tsp. vanilla
2 tbsp. milk
HOW TO
1. Blend butter and sugar until creamy then add vanilla and milk. Beat for a couple of minutes on medium speed, until frosting is smooth.
2. Spread frosting onto your cooled cake and decorate with toasted pistacchio nuts and lemon zest.
Silvia's Cucina is on Facebook, Twitter, Pinterest and Instagram