Lemon Budino (Budino Al Limone)
Lemon Budino
(Budino Al Limone)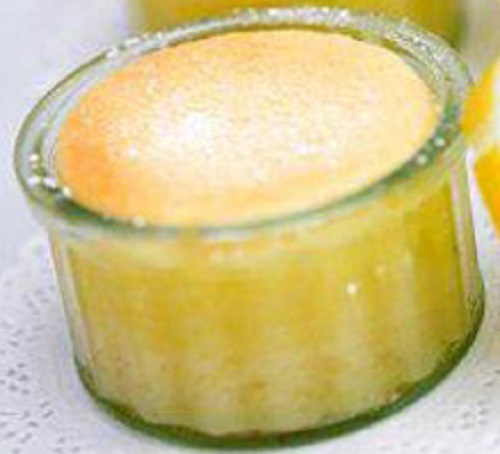 Ingredients:
1/2 cup plus 2 tablespoons sugar
3 large eggs, separated
1/4 cup all purpose flour
1/4 cup fresh lemon juice
2 tablespoons fresh regular lemon juice
2 tablespoons finely grated lemon peel
3/4 cup plus 2 tablespoons whole milk
1/4 teaspoon salt
Whipped cream (optional)
Directions:
Preheat oven to 350°F.
Butter six 3/4-cup custard cups or ramekins.
Combine 1/2 cup sugar, egg yolks, flour, lemon juice, and lemon peel in large bowl.
Whisk until well blended.
Whisk in milk.
Using electric mixer, beat egg whites and salt in medium bowl until frothy.
Gradually add remaining 2 tablespoons sugar and beat until soft peaks form.
Fold beaten egg whites into lemon mixture in 2 additions.
Divide mixture among prepared custard cups.
Place custard cups in roasting pan.
Pour enough hot water into roasting pan to come halfway up sides of custard cups.
Bake puddings until tops are golden and spring back when lightly touched, about 30 minutes.
Remove cups from water.
Serve warm or cold with whipped cream, if desired. Makes 6 servings.