Lemony Brussels Sprouts with Pancetta and Breadcrumbs
Lemony Brussels Sprouts with Pancetta and Breadcrumbs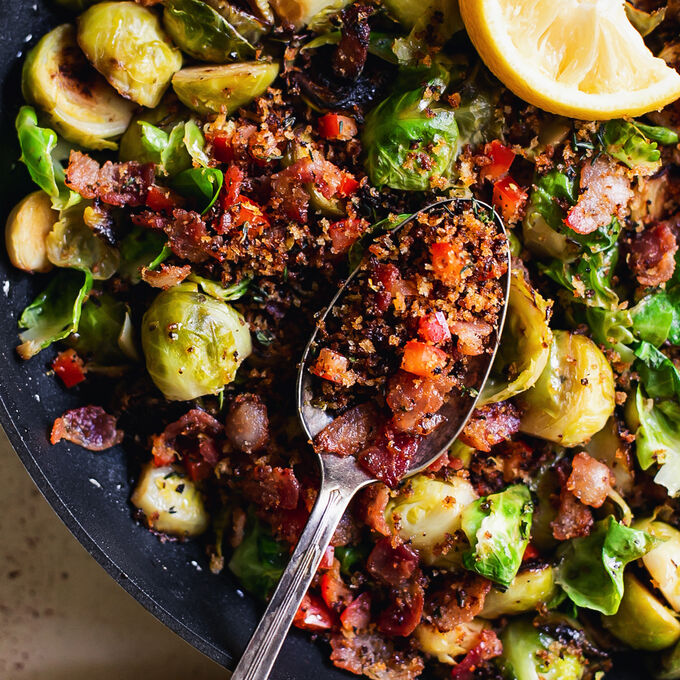 Serves
Makes 8 servings
Ingredients
2½ lbs. brussels sprouts, trimmed

4 oz. slab  pancetta or bacon , coarsely chopped

3 tbsp. olive oil, divided, plus more for serving

1 cup coarse fresh breadcrumbs

1 small Fresno chili, seeds removed, finely chopped

1 tbsp. thyme leaves

1 tsp. finely grated lemon zest

Kosher salt

2 tbsp. fresh lemon juice, divided
Procedure
Cooking the brussels in two stages for this recipe ensures that the cores will be tender and the outer leaves will still have bite.
Remove outer leaves from brussels sprouts; set aside. Halve sprouts; set aside. Pulse pancetta in a food processor until finely ground. Heat 1 tbsp. oil in a large skillet over medium-low. Cook pancetta, stirring often, until browned around edges and fat is rendered, about 4 minutes. Add breadcrumbs and cook, stirring often, until brown and crisp, about 5 minutes. Transfer breadcrumb mixture to paper towels and let cool slightly. Toss in a medium bowl with chili, thyme, and lemon zest; set aside.
Increase heat to medium-high and heat 2 tbsp. oil in same skillet. Add reserved halved brussels sprouts; season with salt. Cook, tossing occasionally, until deeply browned all over, 5–8 minutes. Reduce heat to low, cover skillet, and cook until tender, about 5 minutes. Uncover skillet, add reserved leaves and 1 tbsp. lemon juice, and toss to combine. Cover skillet and cook, tossing occasionally, until leaves are bright green and just wilted, 4–5 minutes. Uncover; add remaining 1 tbsp. lemon juice and season with salt.
Transfer brussels sprouts to a platter, drizzle with more oil, and top with reserved breadcrumb mixture (reheat breadcrumb mixture if needed in a small skillet or in microwave).
Do ahead: breadcrumb mixture can be made 3 hours ahead; store uncovered at room temperature. Brussels sprouts (without leaves) can be cooked 2 hours ahead; store covered at room temperature. Reheat before adding leaves.