Linguine with Grill Roasted Clams
Linguine with Grill Roasted Clams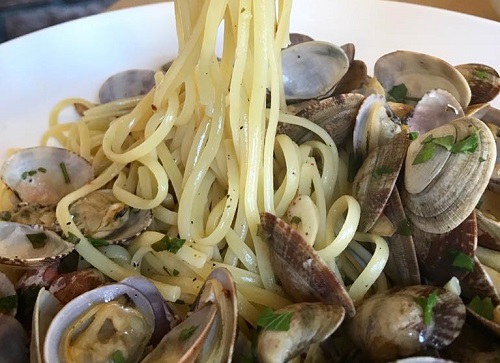 Ingredients:
Makes 4 main-course servings.
1/4 cup extra-virgin olive oil
4 garlic cloves, chopped
1 and 1/2 teaspoons finely grated lemon peel, divided
3/4 teaspoon dried crushed red pepper
1 and 1/3 cups white wine
2 and 1/2 tablespoons fresh lemon juice
3 canned anchovy fillets, minced
2 tablespoons chopped fresh Italian parsley, divided
Coarse kosher salt
4 dozen small clams (such as littleneck), scrubbed
12 ounces linguine
Directions:
Heat olive oil in small deep saucepan over medium-low heat.
Add garlic, 3/4 teaspoon lemon peel, and crushed red pepper.
Saute until garlic is soft, about 3 minutes.
Add wine, increase heat, and boil until mixture is reduced to 1 cup, about 6 minutes.
Remove sauce from heat.
Mix in lemon juice, anchovies, 1 tablespoon parsley, and remaining 3/4 teaspoon lemon peel.
Season with coarse salt.
Prepare barbecue (high heat).
Arrange clams on grill rack.
Cover grill.
Cook clams 5 minutes.
Uncover and cook without turning until clams open.
Transfer to rimmed baking sheet as they open, retaining juices in shells, about 5 minutes longer (discard any clams that do not open).
Meanwhile, cook pasta in large pot of boiling salted water until 'al dente'.
Drain pasta and divide among 4 large shallow bowls.
Arrange 12 clams in shells with juices on pasta in each bowl.
Spoon sauce over.
Sprinkle with 1 tablespoon parsley.