Linguine with Pancetta, Peas and Mint – Written Recipe
Linguine with Pancetta, Peas and Mint
Written Recipe
*

*
Serves
Makes 4 servings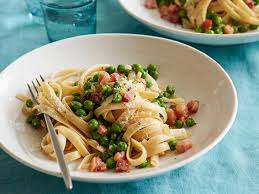 Ingredients
¼ cup extra-virgin olive oil, more as needed

8 ounces pancetta, small dice

2 medium garlic cloves, peeled and minced

1 large shallot, peeled and minced

1½ cups shelled fresh peas, or frozen if fresh is unavailable, thawed

2 teaspoons lemon zest

Kosher salt and freshly ground black pepper

1 recipe fresh pasta cut into linguine∗

20 fresh mint leaves, torn

1 tablespoon fresh lemon juice

½ cup freshly grated high quality parmesan
Procedure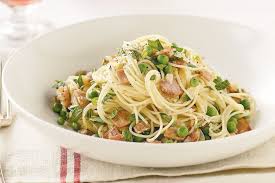 ∗Click here for our Homemade Pasta Dough recipe »
In a large skillet over medium-high heat, add olive oil. When oil is shimmering, add pancetta and cook until crispy, about 3 minutes. Using a slotted spoon, transfer pancetta to a paper towel lined plate. Add garlic and shallots to the hot skillet and cook until soft and translucent, about 2 minutes. Add fresh peas and ½ cup hot water. Stir well and cook until peas are bright green and tender, about 1 minute (omit water if using previously frozen peas). Remove pan from heat and add lemon zest. Taste and adjust seasonings with salt and pepper.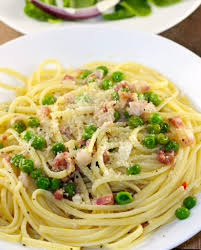 To cook pasta: Heat a large pot of water over high heat until boiling. Add enough kosher salt to season the water like sea water. Add pasta and stir immediately to prevent the strands from sticking together. Boil until al dente, 2 to 3 minutes. Reserve about ½ cup pasta water and drain pasta through a colander.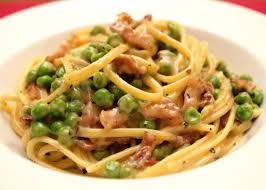 Transfer hot pasta to the skillet containing the peas and seasonings, and return to medium heat. Add ¼ cup of pasta water, crispy pancetta, mint and lemon juice; toss to thoroughly coat pasta with flavors. Taste and adjust seasonings with salt and pepper. If pasta seems dry add additional pasta water as needed.
To serve: Using tongs, transfer pasta to large warmed serving bowl and serve immediately with the grated cheese on the side.