Marinated Radicchio (Radicchio Marinato)
Marinated Radicchio
(Radicchio Marinato)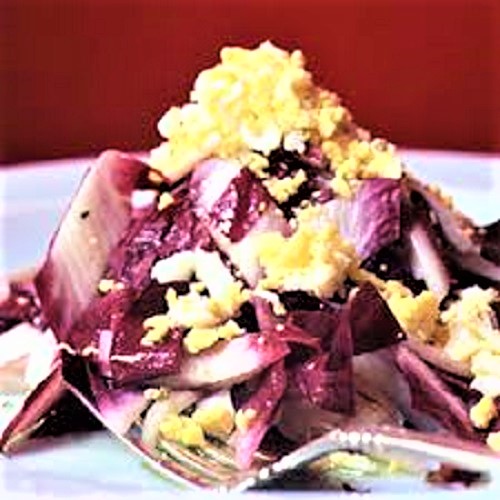 Ingredients:
6 heads treviso radicchio
Finely grated hard-cooked egg
1 cup white wine vinegar
5 black peppercorns
1/2 tsp salt
1 bay leaf
1/2 cup extra-virgin olive oil
Salt and freshly ground black pepper
Directions:
Remove and discard any imperfect outer leaves from the radicchio.
Quarter the heads lengthwise and set aside.
Combine the vinegar, 3 cups water, peppercorns, salt, and bay leaf in a large pot and bring to a boil.
Blanch the radicchio wedges, a few at a time, for 1?2 minutes.
Blot dry with a towel, squeezing gently to remove as much moisture as possible.
Arrange wedges in layers in a glass or ceramic dish.
Cover with olive oil.
Cover with plastic wrap, and refrigerate overnight.
Bring radicchio back to room temperature.
Season with salt and pepper, and slice.
Serve garnished with finely grated hard-cooked egg. Serves 4