Mascarpone Portobello Mushrooms Recipe
Mascarpone Portobello Mushrooms Recipe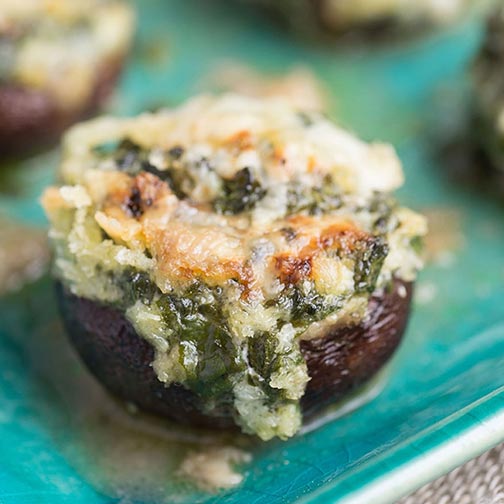 We love how portobellos are the perfect size and shape to be vessels for almost any stuffing. In this case, we mixed up a delicious tapenade-style mix of olives, anchovies and herbs, and blended it with creamy cream cheese. A sprinkle of parmigiano and a quick turn on the grill and we have incredible appetizers or an amazing side dish.
Prep Time:
Cook Time:
Total Time:
Yield: 4 servings
Ingredients
For Portobellos
16 medium portobello mushrooms, cleaned and stems removed
3 tbsps. olive oil
1 tbsp. lemon juice
For Stuffing
3.5 oz. pitted green olives
3 anchovies
1 tbsp. capers
1 tsp. fresh rosemary, chopped
1 tsp. fresh thyme, chopped
3 tsp. lemon juice
4 tbsps. extra virgin olive oil
salt and pepper, to taste
5 cups  fresh spinach leaves, chopped
5-½ oz. mascarpone cheese
¾ cups panko
2 tbsps. grated Parmigiano
Directions
Season the mushrooms with olive oil and lemon juice and sautee in a skillet over high heat until tender.
Arrange on a baking sheet – cups up.
Mix the olives, capers, anchovies, herbs, lemon juice and pepper in a food processor until well combined. Fill the mushroom cups with about 1 tbsp.
Mix the spinach cream cheese, 1/2 cup panko and season with salt and pepper. Top each mushroom cup with a generous heaping. Sprinkle the leftover panko, a bit of parmigiano and bake for 10-15 minutes. Serve immediately.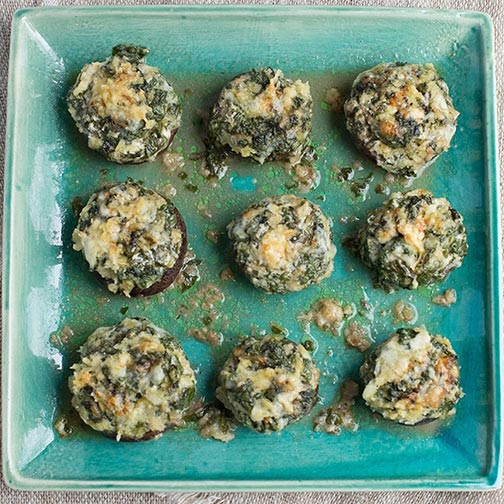 by GourmetFoodStore.co