Mezzi Rigatoni Con Salsiccia e Olive
Mezzi Rigatoni Con Salsiccia e Olive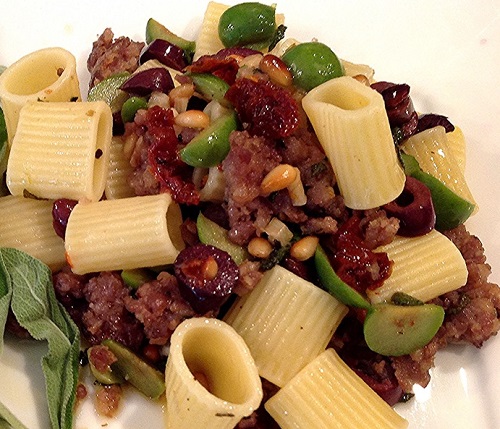 Serves: 4
Prep: about 20 minutes
Ingredients
1 lb. Delverde Mezzi Rigatoni
1/3 C. Extra Virgin Olive Oil
2 Fresh Garlic Cloves – chopped finely
3 Links Italian Sausage ( about 3/4 lb.) – crumbled with casings removed
1 C. Chopped Pitted Castelvetrano and Kalamata Olives
1/2 C. Chopped Sun Dried Tomatoes, packed in oil (oil drained)
2 Tbsp. Chopped Fresh Sage
1/4 C. Toasted Pignoli (pine nuts)
Dash of Red Pepper Flakes
Salt and Pepper to taste
Grated Pecorino Cheese for serving
Instructions
Cook pasta according to package directions.
Place the Extra Virgin Olive Oil in a pan.
Add the sausage and brown in the oil.
Add the olives, sun dried tomatoes, fresh sage, pignoli, and red pepper. If needed, add salt and pepper.
Cook just a few minutes until heated through and flavors combine.
Pour the sauce over the pasta and stir in.
Drizzle generously with Extra Virgin Olive Oil.
Serve with grated Pecorino.