Mozzerella and Burrata Hand Made in Italy
 Mozzerella and Burrata 
Hand Made in Italy
Italian Food Artisans
Mozzarella and Burrata are both traditionally southern Italian spun paste dairy products that are made with Italian buffalo's milk by the pasta filata method. Mozzarella received a Traditional Specialities Guaranteed certification from the European Union in 1998. This protection scheme requires that mozzarella sold in the European Union is produced according to a traditional recipe.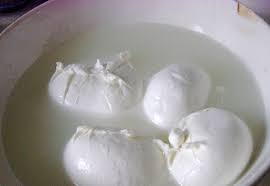 With regard to Mozzerella and Burrata the TSG certification does not specify the source of the milk, so any type of milk can be used. In Italy, mozzarella made with the milk of the Italian water buffalo is an important variety. The Italian buffalo mozzarella sold as Mozzarella di Bufala Campana is protected under the EU's Protected Designation of Origin scheme and may only be produced in select locations in the regions of Campania, Lazio, Apulia and Molise.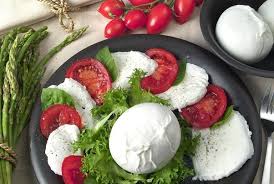 Both fresh Mozzarella & Burrata are generally white, but may vary seasonally to slightly yellow depending on the animal's diet. Due to its high moisture content, it is traditionally served the day after it is made, but can be kept in brine for up to a week or longer when sold in vacuum-sealed packages. Low-moisture mozzarella can be kept refrigerated for up to a month, though some shredded low-moisture mozzarella is sold with a shelf life of up to six months. Mozzarella of several kinds is also used for most types of pizza and several pasta dishes, or served with sliced tomatoes and basil in Caprese salad.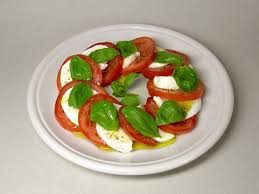 Burrata 
Burrata is a fresh Italian cow milk, or occasionally buffalo milk, cheese made from mozzarella and cream. The outer shell is solid mozzarella, while the inside contains stracciatella and cream, giving it an unusual, soft texture. It is typical of Apulia.
It is also defined by some sources as an outer shell of mozzarella filled with butter or a mixture of butter and sugar. This agrees with original meaning of the word burrata, literally "buttered" in Italian.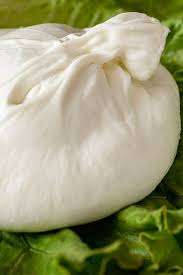 It is usually served fresh and at room temperature.
Burrata starts out much like mozzarella and many other cheeses, with rennet used to curdle the warm milk. But then, unlike other cheeses, fresh mozzarella curds are plunged into hot whey or lightly salted water, kneaded, and pulled to develop the familiar stretchy strings (pasta filata), then shaped in whatever form is desired.
When making burrata, the still-hot cheese is formed into a pouch, which is then filled with scraps of leftover mozzarella and topped off with fresh cream before closing. The finished burrata is traditionally wrapped in the leaves of asphodel, tied to form a little brioche-like topknot, and moistened with a little whey. The asphodel leaves should still be green when the cheese is served to indicate the cheese's freshness. More recently, the cheese is often sold in a plastic bag or container.
Very Interesting Video Below