Mushroom and Mozzarella Skillet Chicken
Mushroom and Mozzarella Skillet Chicken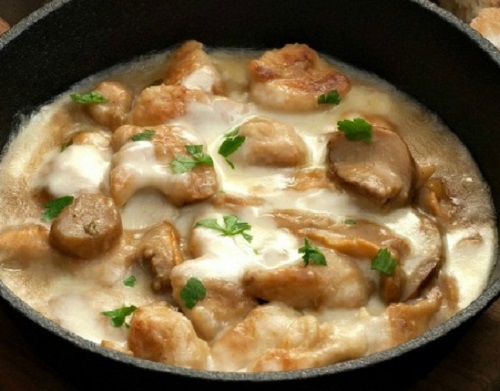 Ingredients
Servings 4
    1 lb. chicken tenders cubed
    ½ lb. fresh mozzarella sliced
    ½ lb. mushrooms  porcini, sliced
    1 garlic clove
    1/3 cup white wine
    3 tbsp extra virgin olive oil
    Salt
    Parsley chopped
Instructions
    To prepare the mushroom/porcini sauce, chop the garlic clove and put it in a non stick frying pan with 1 tbsp of the extra virgin olive oil and let it fry on a low fire for 1 minute.
    Add the sliced mushrooms and let them cook for 2-3 minutes. Add a little water if required. Season with salt.
    Season the chicken cubes with salt and coat them with a little flour. Brown them well in a skillet with the remaining extra virgin olive oil.
    Add the mushroom sauce and stir.
    Add the white wine and burn the alcohol off by increasing the flame for a few seconds. Cook until the chicken is cooked through (you may need to add a little water, depending on how much liquid the mushrooms release).
    When ready, top with the sliced mozzarella, cover and put the fire off.
    When the cheese has melted, add the chopped parsley and serve immediately.