Mushroom Marsala Cream Sauce
Mushroom Marsala Cream Sauce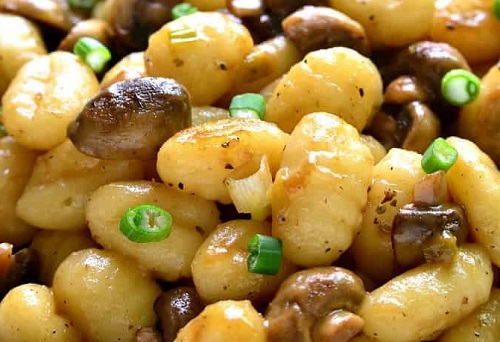 This MARSALA CREAM SAUCE WITH MUSHROOMS  is delicious over gnocchi as you see here, pasta fresca, chicken or veal.
Serves: 4
Prep: 10 minutes
Cook: 15 minutes
Ingredients
2 Tbsp. Olive Oil
2 Tbsp. Butter
1 Whole Large Shallot chopped finely
1 lb. Mushrooms Sliced (preferably wild ones!)
2 Tbsp. Fresh Sage – chopped
(1 Apple – peeled and chopped – an optional twist!)
1 Cup Marsala Wine
1 Cup Heavy Cream
Kosher Salt and Freshly Ground Black Pepper to taste
Grated Asiago Cheese to serve with it.
1 Cup Chopped Pancetta – cooked crisp for topping – optional
Instructions
Melt butter with the olive oil in a pan.
Add the chopped shallot. Cook 1 minute.
Add the mushrooms and apple if using. Stir and cook about 5 minutes.
Add the sage and wine.
Stir and simmer rapidly for about 5 more minutes. The wine will cook down.
Turn off the heat. Let sit a minute. Then add the cream, stirring in.
Add the Kosher Salt and black pepper.
Put back on a low heat and allow to heat through.
Remove from heat and cover until ready to use.
When ready to serve – provide grated Asiago and crispy chopped Pancetta for topping.
This is so easy! You can make the sauce early in the day or even a day ahead if you like. If it needs thinning, add a little pasta water.