Mussels in Marinara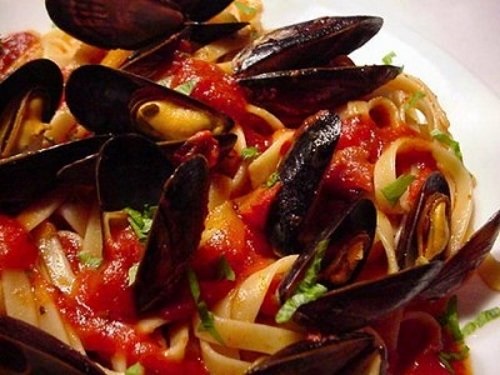 Mussels in Marinara is one of the best appetizer recipes I have. It could be made as an appetizer or a full dinner. The blend of garlic, basil, oregano and tomatoes fills the air with the wonderful aromas of an Italian kitchen.
The added ingredients of fennel seeds and red pepper flakes give this Mussels in Marinara recipe just the added flavor that makes it different from other recipes
INGREDIENTS
2 pounds of mussels

1 bunch of long green onions chopped

1 half green bell pepper chopped

1 half red bell peppers chopped

3 or 4 or 5 or 6 cloves of garlic crushed

1 tsp of fennel seeds

1 tsp of dried red pepper flakes

1 tsp of dried basil

1 tsp of dried oregano

2 15oz. cans of diced tomatoes

1 6oz. can of tomato paste

a little splash of dry red wine

salt and fresh ground pepper to taste

PREPARATION

Clean and debeard mussel and discard any that are open.

Steam them until they open. If you don't have a steamer get one. They're one of the best kitchen tools you could own.

Throw away unopened shells.

Rinse off open shells. I like to do this to get rid of any remaining sand. Now let's set them aside and make the marinara sauce.

In a large saucepan saute the onions and peppers until clear.

Add the garlic. As much as you want. I say the more the better. But what do I know.

Add the diced tomatoes and the tomato paste.

Heat and stir.

Throw in a splash of wine.

Stir some more.

Sprinkle the top with the basil, oregano,fennel seeds and red pepper flakes.

Toss the black little shells into the pan.

Let simmer for around 15 minutes uncovered and serve.

Serve "as is" or over pasta for everyone to enjoy.