Octopus and Potato Salad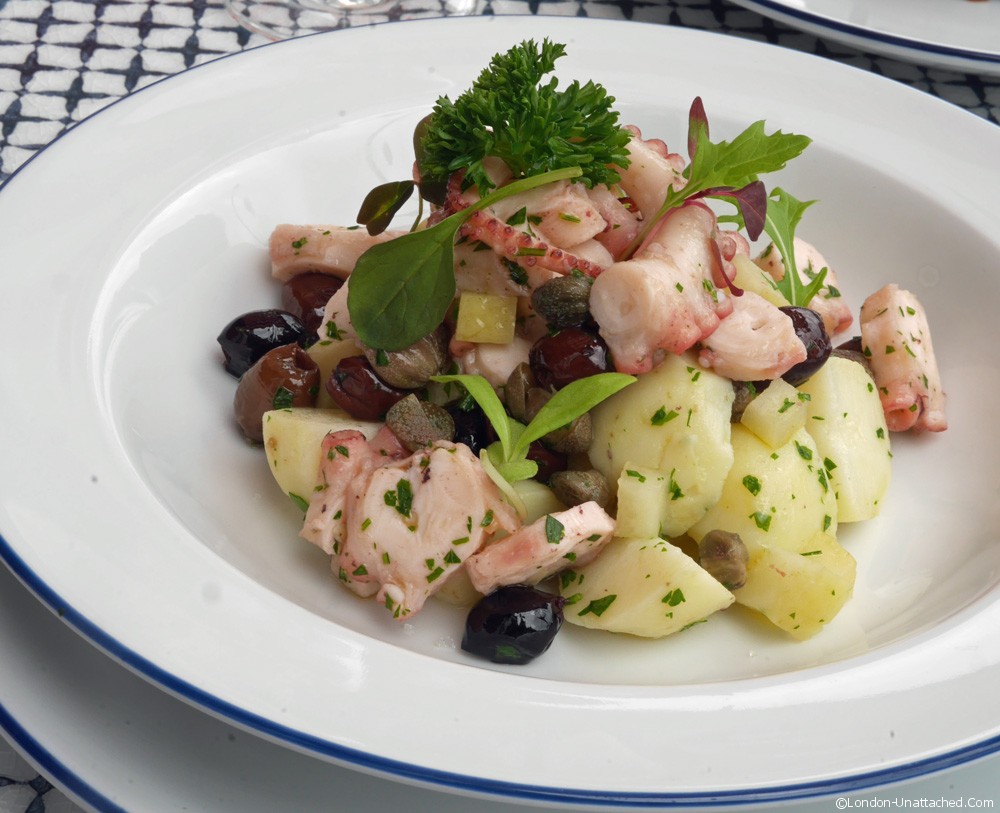 Ingredients
For

6
For the Salad:
3

pounds

tenderized octopus

8

cloves garlic, divided

1

tablespoon

peppercorns

2

pounds

russet potatoes, peeled and cut into 2 inch chunks

1

cup

mixed olives, gaeta, cerignola or kalamata work well

3

lemons, juice only

1/4

cup

fresh parsley, chopped

salt and black pepper as desired

1/2

cup

extra virgin olive oil
Directions
Place the potatoes in a stock pot and cover them with water. Add a generous amount of salt to the water and bring to a boil over a high flame. Cook until the potatoes are fork tender, about 20-30 minutes. Drain and transfer the potatoes to a large mixing bowl to cool.

Wash the octopus under cold Running water. Put a large stockpot over a high flame. Add 4 garlic cloves and peppercorns to the pot and bring 3 quarts of water to a boil. Add the octopus to the pot and return to a boil. Lower the flame to a simmer and cook covered until the thickest part of the octopus is tender, about 30 minutes. For larger octopus it may take longer.

Remove from heat and let the octopus sit in the water 

It's absolutely necessary to let the octopus in its own water until it's cooled to keep the octopus soft and tender

.Transfer the octopus to a cutting board and discard the head(s). Cut the tentacles first. If they are large cut them into 2 or 3 pieces. Cut the rest of the octopus into bite sized chunks. Add all the octopus pieces to the bowl of potatoes.

Add the extra virgin olive oil, olives, lemon juice,  parsley and the remaining 4 cloves of garlic minced to the bowl and mix well. Taste for seasoning and season with salt and black pepper as desired. Cover the bowl with plastic wrap and chill in the refrigerator for at least 4 hours or overnight before serving.