Olive and thyme loaf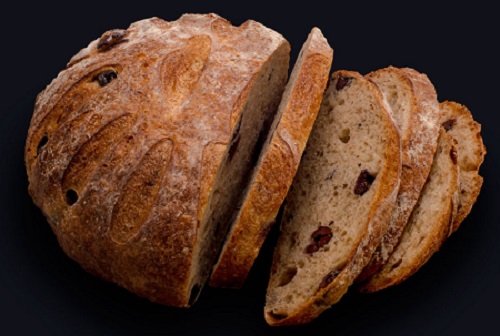 Irresistible bread studded with kalamata olives, fresh thyme, and garlic
Ingredients
    1 1/4 cups warm water
    2 t. active dry yeast
    1 T. sugar
    6 oz. kalamata olives drained & roughly chopped
    1/4 cup fresh thyme finely chopped
    2 cloves garlic finely minced
    1/2 t. salt
    3 1/4 cups flour plus extra for kneading
Instructions
    Combine warm water, yeast, and sugar in a small bowl. Let sit for about 5 minutes, until yeast is foaming.
    Meanwhile, toss olives, thyme, garlic, and salt with flour in the bowl of a stand mixer, making sure olives are completely coated.
    Set mixer on low with dough hook and slowly add yeast mixture to flour. When ingredients are mostly combined, increase speed to medium.
    Knead dough for 5-10 minutes, until dough pulls away from the sides of the bowl and forms an elastic ball. If needed, add extra flour one tablespoon at a time until dough comes together.
    Cover mixing bowl with a damp towel and set in a warm place. Let rise for 2 hours, until roughly doubled in size.
    Cover a baking sheet or large pan with nonstick spray. Punch dough down and place on the pan for the second rise, about 30 minutes.
    Preheat oven to 500°.
    When the second rise is complete, bake at 500° for 15 minutes. Reduce heat to 375° and bake for 30-40 minutes, until bottom is browned and sounds hollow when you knock on it.
    Let cool for at least 10 minutes before cutting.