Onion soup ( Zuppa di cipolle)
Onion soup ( Zuppa di cipolle)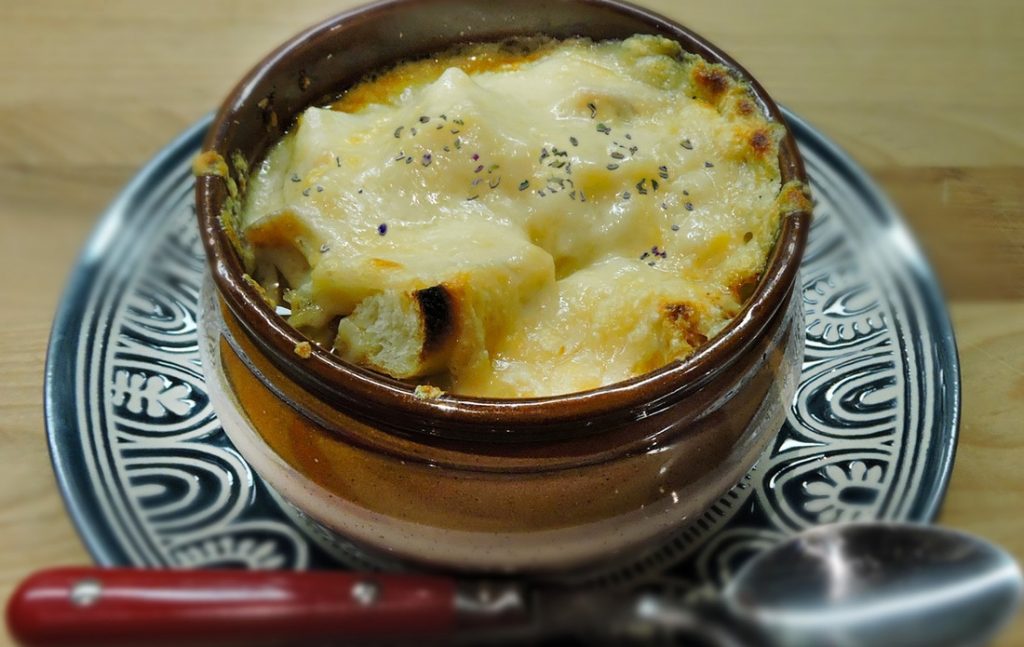 For 4 serves you need:
2 tablespoon butter
1 tablespoon extra-virgin olive oil
15 small blonde onions
salt and pepper
4-5 cups meat  broth
1 cup Fontina cheese chopped in dices
1 1/2 cups grated Parmesan
8 big slices of rustic Italian bread, thick and stale
Heat in a big pan oil and butter, add finely sliced onions and let them fry mixing them often.
Keep them on fire until they're soft and golden.
Add salt and pepper.
In individual soup bowls put a dipper of meat broth, then a piece of stale bread, then cover with onions and add some fontina cubes. Cover with another layer of bread and onions, add another little dipper of broth, spread a generous part of grated cheese.
Cover with an aluminum foil and put in preheated oven (around 375F°) and cook for about half an hour.
Check if the soup needs a little more broth, keep off the aluminum foil and cook 10 minutes more until the grated cheese is brown, remove from the oven, let it rest for few minutes and serve hot or at least warm.
Join Joanne and Frank on Facebook at
and