Orange Polenta Cake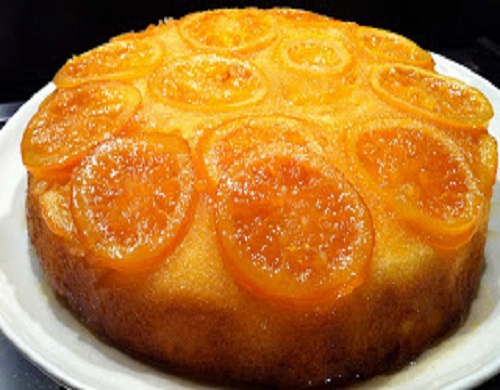 This is an upside-down cake, with soft, sweet orange slices on a grainy-textured polenta cake.
Ingredients:
3 navel oranges
4 ounces (110 grams) butter
3 tbsp and 4 ounces (110 grams) plus 2 tbsp caster (superfine) sugar
5 ounces (140 grams) self-raising flour
3 eggs
2 ounces (60 grams) polenta
Directions:
Slice one of the oranges coin thin.
Half fill a wide pan with water and bring to a boil.
Place the orange slices in water (don't bother with the top and bottom slices) and simmer gently for two minutes. With a fish slice, lift them out on to a tea towel to dry them a bit.
Line an 8 in. (20 c) cake tin with a piece of foil, then place the orange slices over the base, filling all the gaps in a double layer. You may not need all the slices.
Sprinkle 3 tbsp of sugar over the top.
Preheat the oven to 375°F (190°C).
Cream the butter, 4 ounces (110 grams) sugar and a pinch of salt until light and fluffy.
Grate the zest of the other two oranges and mix it in, along with a couple of tablespoonfuls of flour.
Beat in the eggs and the juice of half an orange.
Fold in the rest of the flour and the polenta.
Spread the mixture over the slices of orange, hollowing out the centre a little (this will help it rise to a flat top).
Bake for 45 minutes, until a skewer plunged into the middle comes out dry.
Allow to cool a little, then invert on to a plate, peeling off the foil.
Juice the remaining one and a half oranges and mix the juice with the 2 tbsp of sugar.
Jab the cake with a skewer, going through the orange slices into the cake.
Slowly spoon over the juice, letting it soak in.
Cut with a serrated knife..