Orange Ricotta Almond Tart
Orange Ricotta Almond Tart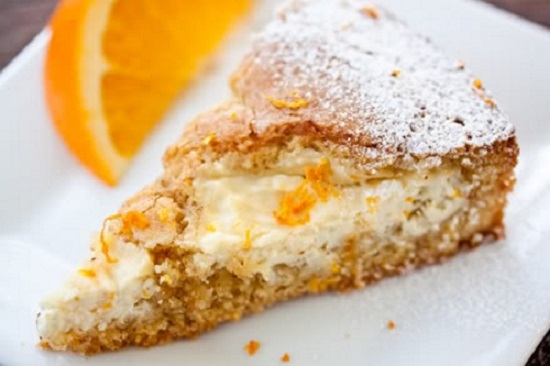 Orange Ricotta Almond Tart
INGREDIENTS
1 1/2 cups (6 oz) blanched slivered almonds

6 large eggs

1 1/2 pounds well drained Ricotta (3 cups)

1/2 cup sugar

Grated zest of 2 large oranges

1/4 cup orange liqueur

1 teaspoon pure vanilla extract

1/2 teaspoon ground nutmeg

TOPPING

Zest of 3 large oranges

1 cup water

1 cup sugar

1/2 cup (4 oz) Creme Fraiche

Fresh mint leaves for garnish

PREPERATION

Pre-heat oven to 350 degrees

Spread almonds on a cookie sheet and bake until light brown.

Remove and set on a rack to cool.

Reduce oven temperature to 325 degrees.

Grind almonds into a fine meal in a bowl or food processor.

Add the eggs, ricotta, sugar, orange zest,orange liquor, vanilla and nutmeg.

Process until well mixed, smooth, and fluffy.

Liberally butter a 9 or 10 inch quiche dish or a glass or ceramic pie plate. (You could also use a a tart pan with a removable bottom.)

Pour the batter int the dish, filling almost up to the top of the pan.

Transfer to the oven.

Bake for 1 hour.

The tart will puff up while baking.

Remove and place on a rack to cool for 1 hour. Set aside and refrigerate for at least 1 hour.

For the topping, peel the zest from the oranges and cut into long, very thin strips.

Be careful to remove only the peel and not the white pith underneath.

Combine the water and the sugar in a small saucepan.

Bring to a simmer over low heat, add orange zest and cook slowly for 1 hour.

If syrup becomes too dry add a little more water.

Turn off heat and add cinnamon stick. Set aside.

Just before serving time, remove the candied orange zest from the syrup and shake off the excess syrup.

Reserve syrup and set aside.

Place 1 tablespoon of sugar on a piece of waxed paper.

Place the zest on the sugar an toss well to coat with sugar.

Place orange rind on the top of the tart and distribute evenly over the tart.

To serve, cut the tart into wedges. Place on serving plates, top with a dollop of Creme Frauche, and drizzle a reaspoon of the reserved syrup on top. Garnish with mint leaves.