Pappa al Pomodoro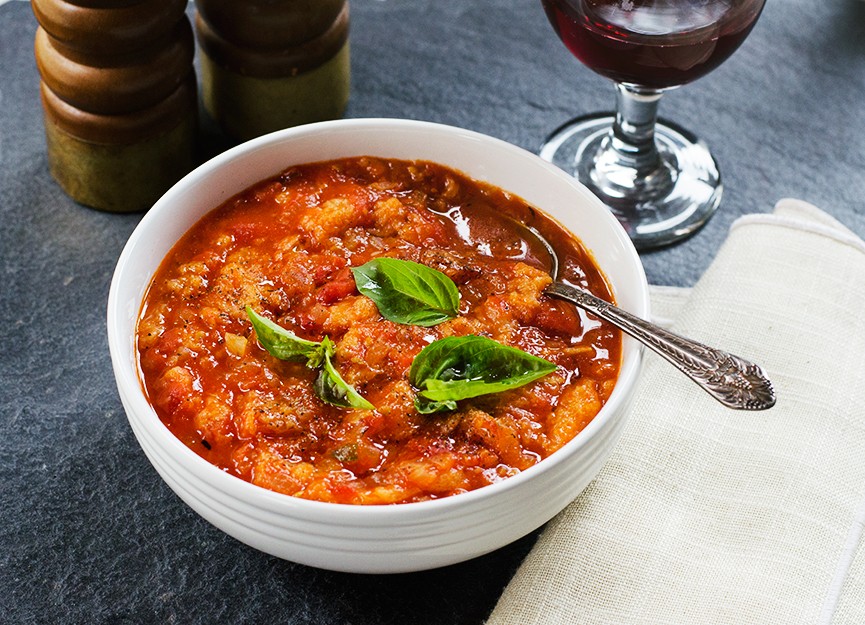 Serves4 to 6
Ingredients
For the soup:
2 tablespoons olive oil
4 ounces pancetta, diced
1 small red onion, peeled
1 carrot, peeled and halved
2 garlic cloves, smashed and peeled
1/4 teaspoon crushed red pepper flakes
3/4 teaspoon kosher salt
2 (14-ounce) cans crushed tomatoes
2 cups low-sodium chicken or vegetable broth, plus up to 1 cup more, if needed
4 cups (1-inch) stale bread cubes (about 2 thick slices)
2 fresh basil sprigs
1 (2-inch) piece of Parmigiano-Reggiano rind
1 1/4 cups freshly grated Parmigiano-Reggiano
3 tablespoons extra-virgin olive oil
2 tablespoons chopped basil, for garnish
Instructions
Heat a medium Dutch oven over medium-high heat. Add the olive oil and pancetta to the pot, and cook until brown and crispy, about 4 minutes. Remove the pancetta to a paper towel–lined plate to drain. Add the onion, carrot, garlic, and red pepper flakes to the pan with the drippings. Reduce the heat to medium and cook, stirring often, for 1 minute, or until fragrant. Add the salt, tomatoes, chicken broth, and bread, and stir to combine. Nestle the basil sprigs and cheese rind in the mixture and bring to a simmer.
Reduce the heat to maintain a gentle bubble. Stir in the drained pancetta. Cook for 25 minutes, stirring often to help break apart the bread and prevent the Parm rind from sticking to the bottom of the pot. Add up to an extra cup of broth, as needed, if the soup gets too thick. Remove and discard the onion, carrot, and cheese rind. Stir in 1 cup of the grated Parmigiano-Reggiano.
To serve, ladle the soup into bowls and garnish with a sprinkling of Parmigiano-Reggiano, a drizzle of extra-virgin olive oil, and the chopped basil.