Pappardelle ai Funghi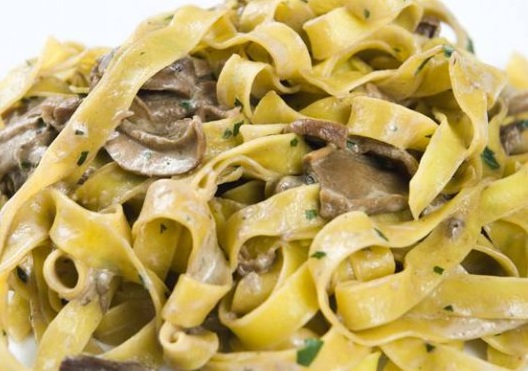 INGREDIENTS
200 g porcini mushrooms
4 sprigs of parsley
1 shallot
1 tablespoon extra virgin olive oil
100 ml dry white wine
salt
200 ml of vegetable broth
120 g of

pappardelle pasta


Freshly ground black pepper
PREPARATION
Mushrooms  rinse them briefly under running cold water to remove excess soil . Slice or cut into cubes .
Wash the parsley , select the leaves and chop finely with the crescent moon on a cutting board .
Peel the shallot and chop it finely.
Put the oil in a frying pan , the chopped shallot and bring it on the fire. Sauté gently until it is well browned it , then add the mushrooms , let them cook for two minutes, then pour over the white wine. Cook for a few minutes over high heat , add a pinch of salt , a teaspoon of chopped parsley, cover and simmer for 10-15 minutes.
Turn occasionally and add broth if the juices were too dry .
Boil the pappardelle pasta in salted water and , just before drain  add half a ladle of cooking water into the pan of sauce , then turn on the heat and add more chopped parsley.
Saute the  pappardelle pasta into the sauce in the pan over high heat for a few minutes , stirring frequently .
Serve immediately with a generous sprinkling of pepper .