Parmesan Peas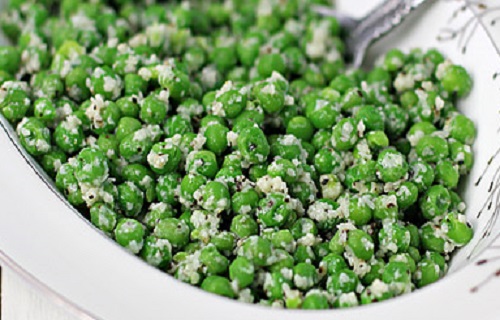 The salty Parmesan coats the peas, countering their sweetness, while the lemon juice cuts through the richness of the cheese to keep this dish light and bright.
Ingredients
    Serves 4
        4 big handfuls of fresh or frozen peas
        1 tablespoon butter
        1/2 cup freshly grated Parmesan cheese
        A small squeeze of lemon juice
        Freshly ground pepper
Directions
        Fill a large saucepan about two-thirds full of water, cover it, and bring it to a boil over high heat.
        Add the peas and cook 3 minutes for fresh or 1 minute for frozen. (Taste one before draining to make sure they're ready.)
        Remove from the heat, save a small cup of the cooking water, and then drain the peas in a colander.
        Put the peas back in the pan with some of the reserved water, and add the butter.
        Stir, then sprinkle in the Parmesan, and stir again until every pea is coated in the cheese. (You may need to add a bit more water to loosen the peas.)
        Add a small squeeze of lemon juice and a sprinkle of pepper, and serve immediately.